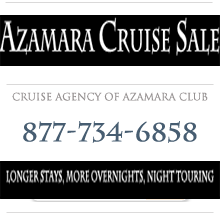 Tucson, AZ (PRWEB) October 06, 2013
As a preferred partner of Azamara Club Cruises, AzamaraCruiseSale.com is pleased to announce that reservations have opened for Azamara's first voyages in Australia. The sailings for 2015 include 52 five- to 18-night itineraries that will visit 203 ports in 62 countries. The Azamara Quest will sail on a New Year's voyage to Australia and the Great Barrier Reef, with maiden calls at Puerto Princesa, Philippines, and Thursday Island and Darwin, Australia, as well as at Great Barrier Reef destinations Cooktown, Port Douglas and Cairns, Australia.
As a member of the prestigious Signature Travel Network, Azamara Cruise Sale is able to provide exclusive offers and amenities in addition to the latest news and announcements for Azamara Club Cruises sailings. In addition to offering deals, Azamara Cruise Sale's online consultants specialize in Azamara cruises and are available to help clients pick the best rooms, pick the right excursions and answer any questions at no additional cost.
For Azamara's first sojourn into Australia, Sydney, Brisbane and Melbourne will not be among the initial ports of call. The 694-passenger Azamara Quest will sail in local waters to highlights like Thursday Island, Darwin, Cooktown, Port Douglas and Cairns. Azamara Cruise Sale is excited to be able to provide clients with the Azamara experience in Australia for the first time, and give any additional information clients may need. To learn more about these sailings to Australia, and all of Azamara's upcoming itineraries, visit AzamaraCruiseSale.com
About the Author: Azamara Cruise Sale is one of the online Cruise Sale divisions of Bon Voyage Travel, a travel agency founded in 1976 in Tucson, Arizona. With over 35 years leading the travel industry, Azamara Cruise Sale offers additional amenities and superior service to those seeking the best cruise experience. Azamara Cruise Sale launched in January of 2013, and joins nine other dedicated online Cruise Sale websites, which successfully serve thousands planning their cruise vacation at the lowest price.