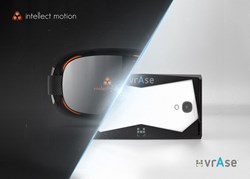 iMotion and vrAse are the perfect combination to experience a new level of Virtual Reality with your mobile device.
Singapore (PRWEB) October 05, 2013
Intellect Motion, a company focused on 3D motion control devices with haptic feedback, today announced its collaboration with Eyedak's vrAse, which turns a smartphone into the ultimate device for augmented reality and virtual reality, as well as movies.
The two companies are now working together to bring Virtual Hands with haptic feedback to mobile devices by developing joint SDK and Unity components for mobile platforms (Android, iOS). Together, the companies will provide a Haptic mobile augmented and virtual reality experience any time, anywhere. Imagine this:

A 3D augmented reality user interface as seen in superhero movies;
Virtual Hands with Haptic feedback in virtual and augmented reality games;
A virtual touchscreen for mobile apps and games, and much, much more.
Both companies are currently raising funds on Kickstarter and seeing great traction. iMotion has raised over $50,000 during its first week on Kickstarter, and vrAse has reached almost $100,000 in pledges with 10 days left to go:
http://www.kickstarter.com/projects/2041280918/vrase-the-smartphone-virtual-reality-case.
http://www.kickstarter.com/projects/576456616/imotion-3d-motion-controller-with-haptic-feedback.
"iMotion and vrAse are the perfect combination to experience a new level of virtual reality with your mobile device," said Alex Khromenkov, CEO of Intellect Motion. It also represents a huge opportunity for developers to create completely new and compelling experiences for mobile phones. Developers around the world will find the vrAse and iMotion SDK easy to use and integrate into their existing apps, as well as the perfect tool to start dreaming up new scenarios for mobile virtual and augmented reality games and apps."
Miguel Schiaffino, CEO of vrAse, commented,"We are all huge fans of VR here at vrAse, and we are seeing a growing interest in hard- and software for virtual reality applications. The combination of our device and iMotion is a perfect match, and it arrives at the perfect time."
Features and key specs of iMotion for mobile:

The only motion controller that supports full 3D motion control.
Can replace your mouse and keyboard with a virtual touch screen.
4-channel Haptic motion feedback sensor.
Functional range of 1 to 16 feet.
Supports applications operating at up to 100 frames per second (with a high-end camera).
Pinpoint accuracy of 0.08 inches and low latency of 10 to 20 milliseconds.
Features of vrAse for mobile:

Use your mobile's screen to generate optical patterns to create a 3D image, by sending each eye its own information. With this you get perfect 3D visuals and you can enjoy them for hours without getting your eyes strained;
Enjoy movies in a huge 3D-Perfect screen, play totally immersive games and experience the awesome possibilities of augmented reality; everything in a super compact, portable, affordable, hands free use and upgradable device.
About Intellect Motion
Founded in 2012, Intellect Motion is a dedicated team of hardware and software engineers, computer scientists and creative designers that are looking to change and enhance how people interact with their computers and other devices. Based in Singapore, and with a Research & Development team in Minsk, Belarus, Intellect Motion is bringing haptic feedback motion control to the masses. http://www.getimotion.com.
About Eyedak Ltd
Founded this year, Eyedak is a brand new company which has regrouped members used to work together for several years. Designers, creators, scientists and discoverers gave birth to a great concept they called vrAse. Dedicated to make life simpler and enjoy it in an affordable way, they use technology already existing to introduce easy access into VR and 3D entertainments. Based in Europe, in Edinburgh and Canary Islands, Eyedak Ltd has a long term vision to develop interactions between you and your everyday devices. http://www.vrase.com/.