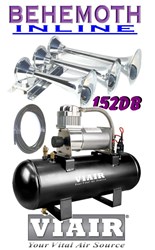 "We are able to provide our customer with the correct air source for their needs," Hills states
Mesa, AZ (PRWEB) October 11, 2013
Assured Automotive Company is a supplier of train horn kits for trucks and cars along with other automotive upgrades since 1991. Assured Automotive Company, based in the U.S., provides products locally, nationally and internationally.
"Supplying a customer with a reliable air source is just as important as providing a quality horn in the train horn kit," stated Jeffrey Hills, President of Assured Automotive Company. "In the past we have provided other, less expensive brands of air source kits, but we found Viair the most reliable," added Hills.
When a vehicle owner decides they want to install a train air horn kit in their vehicle, they will need to have an air source which will provide ample air pressure for that horn. A small air horn will typically need at least 90psi to vibrate the diaphragms efficiently. A large air horn will usually need a minimum of 130psi. This is where a Viair will come into the equation.
Viair is also based in the U.S. and specializes in oil-less compressors for 12vdc and 24vdc applications. Their compressor units are used for personal vehicle applications as well as industrial mining applications.
Assured Automotive Company is a full line Viair dealer and has more air system options and configurations tahn most any other companies. "We are able to provide our customer with the correct air source for their needs," Hills states.
Viair builds compressors that are capable of producing 200psi and Assured Automotive Company takes these compressors, along with the Viair air tanks and all the other components needed. They can then build an air system for the customer's vehicle to specifically fit their needs. Viair air system kits can provide enough air flow (cfm) to do what most garage air compressor systems can do. These systems can of course produce enough air for train air horn, but also inflating tires, air suspension and even pneumatic tools. These systems have been installed in everything from motorcycles to 2 ton tow trucks to small cars to motor homes.
Assured Automotive has been servicing air horn and air system needs for many years. Their knowledge of the products that they sell is far above the industry standard. They put together air horn kits to fit specific needs every day of the year. All of Assured Automotive s train horn kits include 100% Viair compressors and components. "I believe that if you take the best air horns and accompany them with the best air supply at the best prices. You will have very pleased customers that will return many more times," concluded Hills
About Assured Automotive Company:
Assured Automotive Company not only specializes in electric and air horns, but also stainless exhaust products including the T304 stainless exhaust tips, billet accessories, LED Lights and of course on board air systems and components. Providing customized products for cars, trucks, SUVs, motorcycles, and off-road vehicles since 1991 - offering auto and truck upgrades at wholesale prices. Also an authorized Dealer for Air Lift air suspension, RIGID Lights and VIAIR on board air systems and components.
Assured Automotive has built a long-standing reputation in the industry for its extensive inventory, comprehensive technical support, superior customer service, and fast shipping with orders typically shipped within one business day of order receipt. Contact Assured Automotive at (602)617-5331 or at http://www.AssuredAutomotiveProducts.com.