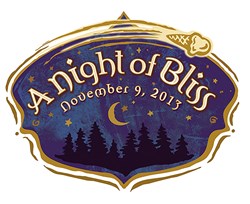 A Night of Bliss is our way to give back to our community and the volunteer organizations that inspire us.
Eugene, Oregon (PRWEB) October 11, 2013
Luna & Larry's Coconut Bliss will host their annual community benefit, A Night of Bliss, on Saturday, November 9, 2013. This year it will be held at Unitarian Universalist Church of Eugene (UUCE) 1685 West 13th Avenue Eugene, Oregon, from 5:00-9:00 p.m.
Featuring live music and endless Coconut Bliss sundaes, the event is open to the public, with a suggested donation. All proceeds go to support the work of two local non-profit organizations: School Garden Project of Lane County and Beyond Toxics. Last year the event raised over $3,000 for the selected beneficiaries.
Highlights of the evening include a raffle and silent auction with goods and services provided by many local artisans and businesses. Small bites will be available from Cousin Jack's Pasty Company, Organically Grown Company, and Holy Cow Cafe. Activities for the children include face painting with all-natural dyes, a sensory table, and more. All are welcome to come enjoy this blissful community event of giving.
About Bliss Unlimited
Bliss Unlimited, LLC was founded to create a satisfying ice cream without the health and ecological impacts associated with dairy, soy, or gluten. Coconut Bliss® is the evolution of ice cream. USDA-certified organic and Non-GMO verified, Coconut Bliss® is based on cholesterol-free coconut milk that is packed with lauric acid and medium-chain triglycerides (MCTs), and agave syrup, a natural low-glycemic sweetener. The company values ecological and social sustainability, and strives to use the highest quality and most ethically produced organic ingredients it can find. The company is privately owned and based in Eugene, Oregon, and has been operating since February 2005. For more information about Coconut Bliss® products and where to buy it, visit http://www.coconutbliss.com.