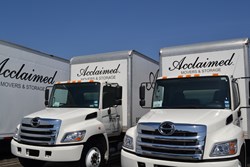 Los Angeles, CA (PRWEB) October 06, 2013
Premier luxury moving company Acclaimed Movers & Storage has modernized their fleet of moving vehicles to lower greenhouse gas emissions. The moving trucks, which are used to pull 50-foot long distance trailers going across the country, are now equipped with engines that utilize bio-diesel fuel. State-of-the-technology Smart Way air filters are also being incorporated, to reduce particulates from contaminating the fuel supply and decreasing efficiency. Additionally, all trucks have been outfitted with low rolling resistance tires to minimize wasted energy. These adjustments have vastly improved the fleet's fuel economy and enabled it to significantly lower its carbon emissions—making the Los Angeles-based company one of the top professional movers to offer green relocation services.
These latest improvements are in line with Acclaimed Movers & Storage's overall goal of providing the best, most comprehensive professional moving services. Moving professionals are exceedingly helpful and courteous, and carefully instructed in every nuance of packing to ensure all your belongings are properly cared for. From industrial strength packing paper to super-thick moving blankets and custom crating, only industry-leading materials are used in the packing process. Expert drivers, rigorously trained and fully licensed and insured, drive trailers going across the country for a long distance move. In addition to the eco-friendly updates made to the "green" moving fleet, every vehicle is also equipped with a GPS system to maximize on-the-road efficiency. In the event that storage is required, a completely secure, climate-controlled warehouse, large enough to hold artwork, pianos, automobiles, boats and any other item, is available.
Acclaimed Movers & Storage was founded with the goal of being the best full-service luxury moving company available. Their commitment to the needs of their local, long distance, and international moving customers is unparalleled. From guidance with scheduling and details of the moving process to assistance with paperwork and regulations to packing, transportation, disassembly/reassembly and even storage, Acclaimed Movers employees have the expertise and experience to make your relocation effortless and enjoyable. A big move—whether it's to a new house, apartment or business enterprise—can be an exhausting and stressful undertaking. Acclaimed Movers & Storage is in the business of taking the work and worry out of the moving process, so you can concentrate on getting settled in your new environment. For a free quote, contact them by phone or visit their website at http://www.acclaimedmovers.com.