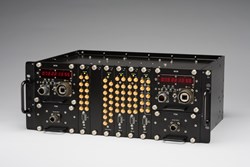 Tustin, CA (PRWEB) October 08, 2013
Brandywine Communications, a leader manufacturer of timing and frequency systems, has announced the release of a new high availability feature to their high-performance timing system product. The HPTS v2 features the same breakthrough design as the original HPTS, but now allows pairing of output modules, to eliminate single point failures. The new dual-redundant output signal modules to the existing design; the HPTS v2 output signal modules are designed to switch from one output module to the other automatically in the event that one of them fails, ensuring high-availability operation.
Brandywine's High Performance Timing System (HPTS v2) is an industry-leading dual redundant modular system designed to provide time and frequency references for various military platforms. This modular system comprises a single rack mounted chassis, into which a number of modules are inserted to pro- vide the required functionality.
The HPTS v2 receives a basic input reference from a GPS receiver, or external source and, in turn supplies a variety of time and frequency signals in a wide variety of available formats. The HPTS v2 is a ruggedized system specified to provide full performance over a wide range of environmental conditions. A unique design feature of the HPTS v2 enables it to distribute time reference signals over a wide area, while providing automatic compensation for propagation delays.
The HPTS v2 features two Master Clock Modules (MCM), each one utilizing a rubidium or ovenized quartz oscillator, and are used to provide redundant time base information for synchronization and system operation. The subsystem components are connected to a backplane bus built into the systems chassis. Output signals are a variety of low voltage analog and digital type signals such as 10MHz, 1PPS, Have Quick and IRIG Time Code.
The HPTS v2 represents a groundbreaking step forward for reliability and availability for the revolutionary High Performance timing system, and Brandywine has already booked orders from major customers. The HPTS v2 will begin shipping in the fall of 2013.