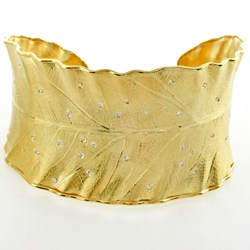 "Creating jewelry is very natural to me," Heinrich says, "yet it takes a very high concentration of a special kind, an inner listening and seeing."
Santa Fe, New Mexico (PRWEB) October 09, 2013
The winter holidays in Santa Fe are like none other, brightened everywhere with festive lights and gleaming farolitos. This year Patina warms the season with "Delicacies," an exhibit of Barbara Heinrich's quietly distinctive, eternally classic jewelry, set with colorful gems and tiny twinkling diamonds. Her rich, gleaming gold will warm the holiday and flatter every woman who wears it.
Now living in New York, Heinrich was born in Germany and trained as a metalsmith there. Her work is thoughtfully lavish and understated. Always distinguished by superb craftsmanship, it exudes good taste.
"Creating jewelry is very natural to me," Heinrich says, "yet it takes a very high concentration of a special kind, an inner listening and seeing. This takes me to a secret garden, a place in consciousness where things of great beauty and grace exist and are absolute realities. My pieces are just as much gifts to me as they are to you. May their uniqueness touch the uniqueness in you." - Barbara Heinrich