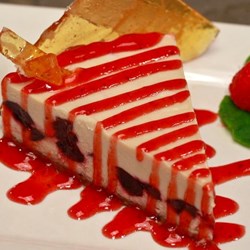 I never thought stripping down your diet could be taken so literally!
Las Vegas, NV (PRWEB) October 07, 2013
When Candy Tolentino, CEO of vegan dessert company Earth Café Living Foods (http://www.EarthCafeToGo.com), learned that expected American male behavior has been turned on it's head at the new vegan gentelman's club Casa Diablo, she was faced with a conflict. Struggling between supporting mainstream veganism and upholding her feminist reputation, she knew that she might be heading into some rough PR waters if she approached owner Johnny Diablo Zukle about offering her vegan cheesecakes on their menu. After much deliberation, she decided to go with her gut and join the revolutionary movement, having faith that her customers and fans will support her decision.
Named after its owner who's been vegan for 29 years, Casa Diablo reflects his name as well as his dietary choices. With Earth Café's website boasting its "unadulterated foods that will leave your senses yearning for more," it's obvious that the tantalizing treats would be a perfect addition the Casa Diablo's dessert menu.
Tolentino explains her decision saying, "Veganism is a huge part of my lifestyle, and I give my full support to any establishment that respects a cruelty-free ideal. With a strip club, it's all about decadence and sensuality, and so is Earth Café!" She jokes, "I never thought stripping down your diet could be taken so literally!"
What makes Tolentino's stance interesting:

Casa Diablo owner is quoted saying, "We're all about love and compassion," which sounds a lot like Café's mission statement for "cruelty-free consciousness" and "respect for greater health and love."
Casa Diablo's dessert menu currently offers fried tortilla chips sprinkled with cinnamon & sugar.
Tolentino is concerned that the feminist community might misinterpret her stance as a lack of support, but she remains feminist in her point of view still, and she's confident that those who know Earth Café and her commitment to cruelty-free consciousness will appreciate her choice and support of free-agency.
Earth Café prides itself on being healthy with its selective ingredients of living foods, just like Casa Diablo prides itself on its selective ingredients of cruelty-free costumes and menu.
About Candy Tolentino:
Candy Tolentino is founding partner and C.E.O. of Earth Cafe Living Foods - the nation's largest and only nationally distributed raw vegan dessert company. Candy is a certified raw food chef, a nutritional expert, and a small business coach and consultant. She is in the process of writing her first book, and continues to expand her offerings through Earth Café whose products can currently be found in health food stores in all 50 states and online. Other passions include spoken word poetry, music, and cinema. Candy is originally from Jersey City, N.J., and now calls Los Angeles, CA. home. She 's living her best life with her husband and partner Josh Black, and newborn baby son, Brave. She and her companies have been featured on Fox News, The Washington Post, HuffPost Weddings, The OC Register, Vegetarian Times, VegNews Magazine, DailyFinance.com, The Cooking Channel, BeyondBlackWhite.com, Voxxi.com, and HGTV to name a few.
Contact: For questions, comments, or more information, please contact candy(at)earthcafetogo(dot)com.
Visit Earth Café Living Foods online at http://www.earthcafetogo.com, on Twitter at @EarthCafe and on Facebook at http://www.earthcafetogo.com/facebook.