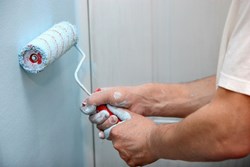 Burbank, CA (PRWEB) October 07, 2013
During the economic down-turn and the sparseness of new jobs in the building industry many Painting Contractors had to turn from multiple workers to an owner-operator type of business. Liability was still an unavoidable issue; however, now the trade has picked up in volume and new workers are being hired for more jobs .Any incident of a liability claim caused by a new employee could put the contractor out of business for good.
Painting Contractors have many of the same liability issues as a General Contractor. But the liability coverage needs to be written with the painter in mind. Every business has liability risks but some of the ones for painters are especially unique. General liability insurance will cover the legal and medical fees for any customer or visitor to a work site who might fall and become injured due to negligence on the painting contractor's part.
There are other scenarios when general liability insurance is needed. A worker may be on a ladder or scaffold and knock a can of paint onto the customer's floor ruining it. The can of paint could even fall on a person. A serious incident could occur when the painting contractor is scraping the walls preparing for the new paint when old lead-based paint is revealed. Everyone near the scene could be exposed to lead fumes leading into multiple lawsuits. General liability insurance will pay for property repairs and all medical and attorney fees.
Another benefit of General Liability Insurance for the Painting Contractor is that the official business location or shop is covered if it is being leased. If any worker damages the building or premises, the insurance would pay for the damages. The general liability also offers coverage to newly acquired locations or jobs. In the event the business grows from one job to 10 jobs simultaneously, no new coverage needs to be written.
General liability will also cover the painting contractor should there be inadvertent false advertising or infringement of copyrights. A good example would be where a painting manufacturer is having a sale on its premium paint. The painting contractor uses the same ad but places his business name and phone number at the bottom without getting prior written permission from the paint supplier.
To learn how USA Business Insurance can help a Painting Contractor with specific liability coverage visit http://businessinsuranceusa.com/painting-contractor-insurance.
About USA Business Insurance: USA Business Insurance operates in most U.S. states and writes a multitude of insurance coverages for general and specific business niches and specialties.