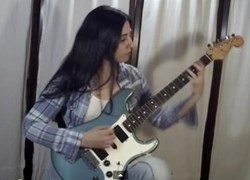 (PRWEB) October 05, 2013
GuitarControl.com announces the release of "Rhythm Guitar Lesson - How to Play Burn by Deep Purple - Classic Guitar Riffs" the latest in their series of free instructional YouTube videos.
Formed in 1968 in Hereford, England, Deep Purple is one of the longest-tenured, and most acclaimed, bands in the history of Rock. Originally focused on Hard Rock and Heavy Metal, the band has evolved over time, both introducing new personel and embracing other musical influences, changes that have kept the band musically relevant to this day.
"Burn," the title cut from the 1974 album of the same name, is a Rock classic that incorporates the progressive rock influences of the day, showcasing the band's playing prowess and highlighting Jon Lord's Bach-inspired keyboard solo and Richie Blackmore's classically-accented guitar work.
In this video, Alejandra Mesliuk show how to play the theme that was laid down by Blackmore's guitar and that is the musical foundation of "Burn." Although labeled a rhythm guitar lesson, this foundational riff is comprised of both lead and rhythm elements, that shift seamlessly from one to the other and provide the framework for everything that follows in the piece. The lead line moves up and down the (low) E, A, and D strings and the rhythm is derived from a sequence of power chords played on the D and G strings. As is her custom, Alejandra first plays at normal speed and then slowly to better demonstrate the fingering. However, in this lesson she stops to describe the chords that form the musical structure of the sequence. "Burn" is an iconic Rock song; Alejandra makes it accessible and understandable.
Alejandra Mesliuk is a highly accomplished and classically trained guitarist from Argentina who is equally comfortable playing Jazz, Rock, and Classical pieces. A rising star in the music world, and a sought after instructor in her homeland, Alejandra is working on her first book: Technique and Expression - method of tapping and slap guitar for 6 & 7 strings, and is also preparing her first solo album Los locos de Dios.
Guitar Control.com is a consortium of professional guitarists dedicated to providing the highest quality musical instruction. Producing both web-streamed lessons and comprehensive multi-DVD courses, Guitar Control offers instruction for every style of playing and for all musical genres. Guitar Control's YouTube channel (youtube.com/guitarcontrol) offers 409 (and counting) free video lessons.