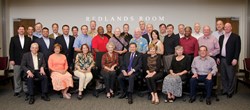 Redlands, Calif. (PRWEB) October 07, 2013
Six notable individuals have been appointed as members of the University of Redlands Board of Trustees this year. Four of them are new members, and two former trustees have returned to the board. Their three-year terms began July 1, 2013.
The 34-member Board of Trustees has a fiduciary responsibility to the University as a whole. The trustees are responsible for electing the University president and approving an annual plan of financial operation. Through the University bylaws, the day-to-day responsibility for administration of the University is delegated by the trustees to the president.
William R. Cahill
Bill Cahill is the President of Calfox, Inc., a full-service real estate management and investment company, as well as the Director of Cahill Contractors, Inc. He earned his Bachelor of Arts degree from Stanford University and his Juris Doctorate degree from Hastings College of Law. His son, John, graduated from Redlands in 2011. Cahill and his wife Jeanne live in Ross, Calif.
Kenneth F. Hall '60 (Returning Board Member)
An expert in education finance, Ken Hall has been involved in school finance and educational reform legislation in California since the early 1970s. Hall played key roles in Sacramento over the years and was essential in helping the University of Redlands School of Education craft the vision for its Ed.D. program. He served as the school's commencement speaker in 2004. With his wife, Lynn, they established at the University the Ken and Lynn Hall chair in Public Policy. Currently, Hall is a faculty member at the University of Southern California, teaching and leading a program on school business management. Hall was first elected to the Board of Trustees in 1975.
Fran Inman
Fran Inman is the Senior Vice President at the Los Angeles-based Majestic Realty Co., one of the nation's largest privately-held, family-owned real estate development companies, where she directs all government relations and community affairs activities. Inman is also a California Transportation Commissioner and a Committee Member of the National Freight Advisory Council. Additionally, she is a Board member for THINK Together, one of the nation's largest non-profit after-school learning programs, serving more than 70,000 at-risk and low-income students across Southern California.
Alice Mozley '70 (Returning Board Member)
Alice Mozley had a successful career with positions at Magnavox Research Labs, Lockheed Missiles and Space Company, and McKinsey & Company before joining the Times Mirror Company, where, as Vice President for Planning and Development, she was the highest ranking woman in the company and one of the few senior executive women at a Fortune 100 company. Mozley, who graduated with a baccalaureate with honors from the University of Redlands in Speech and Audiology in 1970, was first elected to the Board of Trustees in 1992. She currently resides in Vail, Colo.
William E. Siwek '84
Bill Siwek is the Chief Financial Officer for TPI Composites, Inc. located in Scottsdale, Ariz., a company that manufactures energy-generating windmills sold around the world. Previously, he owned Redondo Ventures, LLC, in Arizona and was the Executive Vice President and CFO of Talisker Mountain, Inc., which was the premier developer of real estate in Park City, Utah. He was also the former President and CFO of the Lyle Anderson Company, which developed high-end private residential golf communities and was an operator of private golf clubs. Siwek earned his Bachelor of Science degree in Accounting and Economics from the University of Redlands in 1984. Siwek and his wife, Karen, live in Paradise Valley, Ariz.
Charles S. "Chuck" Wilke'64
The founding principal at Meridian Capital, LLC (formerly Olympic Capital Partners), Chuck Wilke has more than 20 years of experience in CEO-level positions in companies such as Olympic Capital, Raleigh USA Bicycle Company, and Gerry Baby Products Company. A graduate of the University of Redlands with a bachelor's degree in economics, Wilke has a great affinity for the University and was reunion gift chair for his 40th reunion in 2004. He resides in Seattle, Wash.
About University of Redlands
The University of Redlands is an independent, non-profit, liberal arts and sciences university consistently ranked among the best master's universities in the nation. Since the university's founding in 1907, Redlands has emphasized academic rigor, personal development and interdisciplinary studies. An "Education +" culture of elevated learning provides students with a holistic education that results in a unique life transformation. Adults may continue their education with programs tailored for working professionals at the Schools of Business and Education, offering evening degree-completion and graduate programs at 11 convenient Southern California locations.