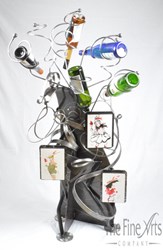 eclectic with a bit of whimsy
Hagerstown, MD (PRWEB) October 05, 2013
Your home says a lot about you. The Fine Arts Company is pleased to offer you the opportunity for your home to say that you are anything but ordinary, a patron of the handmade American arts with impeccable style. State your individuality proudly with home décor from Rochester, New York-based metal artist John Hendry.
Described as "eclectic with a bit of whimsy," Hendry uses metal ribbons to create swirling lamps, tables, wine racks and more. His public works are displayed at schools and memorial gardens, in addition to in the homes of art collectors and admirers. These flowing designs are functional as well as decorative art, adding an air of the unique to otherwise everyday objects. The natural hues of heated and welded steel are coated with acrylic clear coats which lend protection as well as a three-dimensional visual effect to each whorl and sweeping curve.
John Hendry describes his work as, "affordable art with a purpose." When designing a piece, he considers not only the form but also the function of the finished product. Hendry has collaborated with several other artists, including Cordell Cordaro, also of Rochester. Cordaro is a painter whose eclectic and colorful artwork is complemented by the whimsical forms of Hendry's metalwork.
Each item by John Hendry is a one-of-a-kind hand finished work of art. An industrial welder by trade, Hendry creates all of his original design metal sculptures in his home studio. Each and every piece is of Hendry's own design and creation, never outsourced or duplicated. Offered at reasonable prices, these functional sculptures are sure to make a statement in your living space – and after all, isn't that why you decorate?
To learn more about John Hendry and browse the current selection of one-of-a-kind functional art for your home, including a collaborative piece featuring paintings by Cordell Cordaro, visit http://www.thefineartscompany.com. It's your space – make it special.
About The Fine Arts Company
The Fine Arts Company offers a variety of top-quality original handmade items from American artists and designers. The offerings include a creative range of items including jewelry, fine art, glassware and pottery. The Fine Arts Company offers consumers the chance to own and treasure unique one-of-a-kind pieces of modern American culture. Visit http://www.thefineartscompany.com or follow on Facebook to learn about upcoming events and developments, and see the newest and best in handmade American arts. People interested in handmade American Arts can also participate on the companies blog located at http://www.thefineartscompany.com/blog.