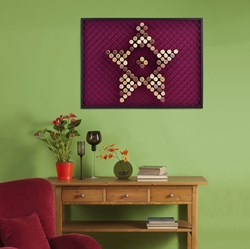 "CorkIt! is unlike any other home décor or wine cork craft kit. It's unique "peg and hole" design makes it easy for anyone to be a Cork Artist!" Jim McKinnis, Jokari CEO
Dallas, TX (PRWEB) October 05, 2013
Jokari, known for innovative kitchen and home products for almost 40 years, is now bringing you a brand new idea that let's you show off your creativity and love of wine, all in one beautiful package. CorkIt! Interactive Cork Art allows you to use old wine corks as beautiful home décor without any crafting skill necessary. The patent pending "peg and hole" design is innovative, yet brilliantly simple. These beautifully designed wall frames, and home décor accessories, let you create your own designs for one of a kind customizable displays.
The CorkIt! wall frames, vases and bowl allow you to reuse old wine corks after you enjoy your favorite vintage and enjoy the always changing designs for years to come. While there are many wine cork "kits" on the market which let you make items like trivets and corkboards, only CorkIt! gives you a beautiful "canvas" that let's your old corks become the art, instantly. Recreate one of the suggested designs supplied by CorkIt!, create you own or welcome guests by spelling out their names. Change it just by moving a few corks around, designs are up to you and your choices are virtually limitless. There are two sizes of the wall frames finished in precision crafted flat black or faux rusted metal with designer color backgrounds. Homeowners can even add their own background with paper from their local craft store to match their personal home décor style. Also available, both a small and large cylinder vase that are perfect for flameless candles, flowers or as a wine bottle holder. The CorkIt! bowl is a charming and unique way to display fruit, knick-knacks or even more corks. And by using corks as legs for the bowl, you can vary the angle and position to fit your needs. With CorkIt!, the design you choose is only limited by your imagination and your cork collection. Try using the wine stained end of your red wine corks to add even more personality and color to your artwork, and show the world just how much you enjoy being a wine connoisseur.
Jokari launched a Kickstarter campaign on September 29th in order to crowdsource funds to take CorkIt! from prototype through production. The Kickstarter campaign will run until October 29th, with the goal of raising $20,000.
To back CorkIt! please visit the following link: http://kck.st/15aSWUH.
About Jokari:
Jokari started bringing the world innovative products nearly 40 years ago, and are now expanding their product line into fun and creative items to help bring a new perspective to your home. Jokari offers many different products for home organization, healthy living, and home safety. Visit http://www.jokari.com today and see what Jokari can do for you.
Facebook: https://www.facebook.com/CorkItArt
Pinterest: http://www.pinterest.com/corkitwallart/what-to-do-with-old-wine-corks/
Kickstarter: http://kck.st/15aSWUH
Contact:
Jim McKinnis
jmckinnis(at)jokari(dot)com
214=540-9504