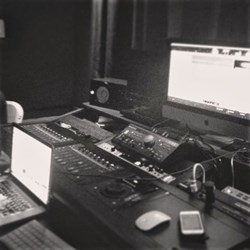 'Building and maintaining a winning team, first begins with cultivating relationships within the team,' explains CEO Brian Howard as the purpose of the 'Writing Camps'.
Los Angeles, CA (PRWEB) October 07, 2013
Pizazz Entertainment, one of music's newest independent record labels is fast becoming a progressive leader in industry practices. The Charlotte based company first introduced its launch a few weeks ago in August and then quickly announced key players in the organization or 'Kingdom' as the label has penned its structure, before introducing their first artist, songwriter and rapper Joe Sig. Now with the first week of October at an end, Pizazz Entertainment extends its reach into the Music Industry by sharing insider practices with the unveiling of their first in a series of 'Writing Camps' targeting all of the companies stakeholders, including the executive team.
"Building and maintaining a winning team, first begins with cultivating relationships within the team," explains CEO Brian Howard as the purpose of the 'Writing Camps'. Many labels are organized such that the decision makers like the CEO and other directors interact most often with producers and artist during the initial formation of the business relationship and periodically during highs (profits) and lows (losses) over the life of the contracts. But Pizazz Entertainment's philosophy is that everyone is empowered to be successful in music while actually learning the business of music. The first of these 'Writing Camps', tagged Session I was held in Los Angeles this week at a private studio. "One of our objectives for this session is to produce a colossal collaboration of content," explains the Director of Publicity from the steps of the studio. "That's why publicity, sales, musicians, writers, producers, engineers, a photographer, investors, and the CEO are all present!"
Other well-known invited artists involved with Session I included video director Hi Def Jones who is responsible for bringing vocal concepts to life visually. Two of Los Vegas most talented rising producer and musicians, Sean and Alec stopped by to add some Trap Beats and acoustics to the sound. And 20-year veteran base player and guitarist Skoot who is well known in the G-Funk community for playing with Hip Hop legends such as the like of Snoop Dog was also a welcome addition to the creative compositions developed for new artist Joe Sig whose debut single has been rescheduled for release later in the year.
The five day camp involved jam sessions with the production teams while simultaneously the arts, sales, and publicity components were each at work. The result, hot new music aligned with creative promotional tactics all blended with a formula that assures successful outcomes.
The label plans to schedule these camps throughout the year in various U.S. markets that are centered on music development and promotion. Another objective, officials' state, is to gather influences from other artists throughout the county that will inspire fresh ideas.
Follow Pizazz Entertainment on Twitter for the latest information.
About Pizazz Entertainment
Pizazz Entertainment was originally formed in 20 11 and is an independent Hip Hop / R&B Record Label based in Charlotte, NC. Pizazz is a full service record label providing marketing and publicity, Recording and Production, and Booking. The roster includes Hip Hop Artist Joe Sig, Seattle based producer Tryfe, and the creative writing and production team of Serenity and Nikoleeno, (http://www.pizazzent.com).