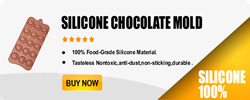 (PRWEB) October 05, 2013
TOGOHK.com is a leader in today's silicone era; the silicone technology is integrated into everyday life. Recently, TOGOHK.com has launched a silicone chocolate mold promotion, up to 30% off; custom silicone chocolate molds are available here as well.
TOGOHK.com is offering all kinds of molds, including silicone cases, silicone bracelets, silicone tubes, silicone kitchen utensils, silicone seals and other silicone rubber products. The company often hosts some seminars about silicone molds, so that its customers are able to get more information about the industry and improve their skills for success in the market.
"All our products are guaranteed to be of high quality, and we are happy to launch the promotion. Now, please visit our website and place an order; the discounts are available until Oct. 12, 2013," said the CEO of the company.
A customer from the UK said, "I can't thank TOGOHK enough for offering custom designs at no charge. Your products make better performance than that from other suppliers I can find."
As a leader in the industry, TOGOHK.com considers that it is its responsibility to look after every customer within its ability. An old customer from the USA, reviewed, "I would never forget the custom silicone chocolate molds from TOGOHK. They are perfect in functionality. I like this company for its high quality products and fast delivery. Thank you!"
About TOGOHK.com
Founded in 2003, TOGOHK has developed into a modern enterprise that offers its clients worldwide a one-stop silicone product solution from conception to delivery. With high technology engineering and advanced CAD and CAM, the company has been serving more than 3000 customers from over 70 countries.
For more information about the business, please visit their website at: http://www.togohk.com/?gallery=silicone-chocolate-mould