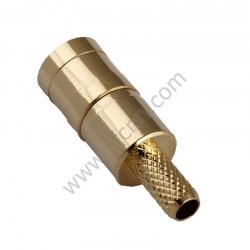 (PRWEB) October 05, 2013
RFcnn.com is a well-known company in the industry of RF connectors. Recently, the business has unveiled its new collection of SMB connectors and announced a special offer for all the customers worldwide. Now, everyone can enjoy a discount, up to 32% off, before Oct. 22, 2013.
Based on a senior engineer of the company, an SMB connector, which features a snap-on coupling and it offers excellent electrical performance from DC to 4 GHz, is actually a coaxial RF connector; an SMB connector is normally smaller than an SMA connector. The SMB connector collection from RFcnn.com is specially designed to expand its global market share.
"Our product catalog shows how our designs and products differ from all the other types of other suppliers when it comes to quality and services. Nobody can match our quality or price. Our high quality SMB connectors are specially designed for the high end customers in the industry. OEM orders are welcome here as well," says the CEO of the company.
The functional and reliable SMB connectors provided by RFcnn.com are priced very low than their actual worth; the promotion provides many manufacturers a solution of finding the right RF connectors and making their products more reliable. RFcnn.com aims to work quickly and efficiently, so that clients can make quick responses to the changing market.
About RFcnn.com
RFcnn.com belongs to Zhenjiang Fourstar Electronics Co. LTD, which is a China based company that aims to provide customers high quality RF connectors at the lowest possible prices. A large proportion of RFcnn.com's customers will come back soon after their first deals.
More details can be found at http://www.rfcnn.com/SMB-Male-Right-Angle-for-PCB-RF-Connector-165.html.