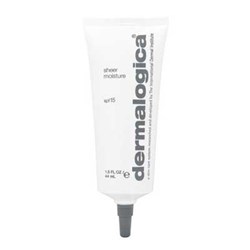 Dermalogica Sheer Moisture is an oil-free product, making it a perfect product for those skin types that tend to break out.
Anaheim, CA (PRWEB) December 11, 2013
DrSkinSpa.com is an e-retailing web site selling anti-aging skin care products that have been clinically studied for optimal effects. This company carries a large inventory of high-grade skin care products that contain natural ingredients. DrSkinSpa.com is happy to welcome the recent addition of Dermalogica Sheer Moisture to their already extensive portfolio of product offerings.
Dermalogica Sheer Moisture adds hydration to the facial while also adding a hint of color and protection from the aging effects of the sun. This Dermalogica sheer moisture cream is lightweight and oil-free and contains just the right amount of moisture to fight dehydration. It also contains antioxidants to fight off free radical damage and offers protection from the damaging UV rays of the sun.
The natural iron oxides in this mineral cosmetic give the skin a sheer hint of color that makes skin glow with youth. The natural zinc oxide protects skin from UV rays that can cause skin damage; the zinc oxide in Dermalogica Sheer Moisture also give skin a radiant glow.
Walnut seed and olive extracts included in Dermalogica sheer moisture add antioxidant protective qualities to this cream that will improve the skin's texture and aid in wrinkle reduction. Dimethicone molecules help form the protective moisture barrier on the skin and fill in lines that result from aging. The Dermalogica sheer moisture is appropriate for any skin type and offers SPF of 15. The tinted moisturizer comes in shades from fair to medium to dark. This moisturizer also comes in an untinted solutions.
The Esthetician at DrSkinSpa.com, Desiree Johnson, said, "Dermalogica Sheer Moisture is an oil-free product, making it a perfect product for those skin types that tend to break out. The lactic acid in this Dermalogica sheer moisture is an Alpha Hydroxy Acid, a natural exfoliant known for reducing fine lines and wrinkles."
DrSkinSpa.com is operated and owned by a medical professional. Only the highest quality and scientifically proven skin care products are sold on this retail site. DrSkinSpa.com proudly offers its customers a 14-day money-back guarantee on their products. They also offer an exclusive 120% price assurance protection and no-cost shipping. Consultations with a professional Esthetician are also available at no cost. DrSkinSpa.com is owned in conjunction with Crescent Health Center and is based in Anaheim, California.