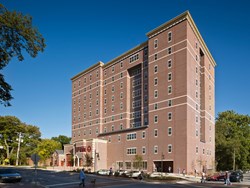 This new building enhances one of the most desirable neighborhoods in the City.
Wilmington, DE (PRWEB) October 07, 2013
City, state, and federal officials gathered today for two ceremonial ribbon-cuttings—at the same building—to mark the grand opening of Lincoln Towers, a newly constructed high-rise apartment community that also features a new home for the city's Fire Company No. 5. The innovative community is the result of a unique partnership between the City of Wilmington and the Wilmington Housing Authority and is a milestone in the revitalization of the city's Trolley Square neighborhood.
Located at 1800 North Dupont Street, Lincoln Towers replaces outdated public housing with a mixed-income affordable community for seniors aged 62 and older, with 88 apartments on floors three through 10. The first floor features a beautiful lobby area for residents on one side and a state-of-the-art fire station on the other.
"We are so grateful for the community's support of our vision to maintain affordable housing in this wonderful neighborhood and create modern, energy efficient housing for our elderly public housing residents," said Frederick S. Purnell, Sr., Executive Director at the Wilmington Housing Authority. "This new building enhances one of the most desirable neighborhoods in the City while continuing to provide much-needed affordable housing opportunities in the area," Purnell said. Purnell noted that combining the residential community with the fire station represented an innovative solution to a long-standing problem for the city—replacing two outdated buildings in a logical, cost-effective way.
Wilmington Mayor Dennis P. Williams, who along with members of the Wilmington City Council, participated in the ceremonial ribbon-cuttings, called the development a "win-win" for the entire city.
In his remarks, Mayor Williams thanked The Wilmington Housing Authority for its commitment to serving the housing needs of citizens and for working with the City to provide essential fire safety services to the community.
Lincoln Towers is designed with high energy-efficient systems and materials, making it one of the "greenest" buildings in the City of Wilmington. All of the apartments, 80 one-bedrooms and eight two-bedrooms, are adaptable for residents with disabilities. In addition, Lincoln Towers features a spacious "community center," on its second floor where residents can gather for recreational and educational activities. An on-site underground parking garage, laundry facilities on each floor, a fitness room, and a computer room complete the amenities package.
Wilmington Housing Authority developed Lincoln Towers, in partnership with The Michaels Development Company. Interstate Realty Management is providing professional property management services that will ensure the community remains an asset to the Trolley Square neighborhood long into the future. Both Michaels Development and Interstate Realty Management are companies of The Michaels Organization, a leader in affordable housing development across the country.
"It has been an honor to be a partner in this truly unique development, and we look forward to being good stewards of this community for years to come," said Milton R. Pratt Jr., Senior Vice President of The Michaels Development Company.
Funding for the $30 million development came from equity raised from the sale of Low Income Housing Tax Credits allocated from the Delaware State Housing Authority, WHA Replacement Housing Factor Funds, tax-exempt bonds issued by the City of Wilmington, and Federal Home Loan Bank Funds. The development also benefited from a "green" grant from the U.S. Department of Housing and Urban Development, which WHA won through a competitive funding process as part of the American Recovery and Reinvestment Act.
Joining the celebration of this great achievement was John Bohm, Director of Congressional Relations for the National Association of Housing & Rehabilitation Officials (NAHRO), which has designated October as "Housing America" month to spotlight the country's continuing need for quality affordable housing. Bohm recognized WHA for its commitment to creating beautiful housing choices for low income residents of Wilmington, DE.
Lincoln Towers is already 100 percent leased and has a two-year waiting list. The fire station is expected to be fully operational within the next month.
About Wilmington Housing Authority
WHA is the largest direct provider of affordable housing opportunities in the State of Delaware, managing nearly 2000 units of public, tax credit and market rate housing and administering nearly 1900 housing choice vouchers in a variety of programs. Our programs serve over 7000 low to moderate income residents of the City of Wilmington. Directly funded by the United States Department of Housing and Urban Development, WHA's combined operating, capital and voucher program budgets exceed $30 million annually.
About The Michaels Organization
The Michaels Organization is a family of eight integrated but independent companies dedicated to excellence in affordable, mixed-income, military, and student housing. Our mission is to create attractive residential communities for families, seniors, military service members, and students that stand the test of time and that are managed to maximize long-term value for residents as well as investors. Serving more than 100,000 residents in 360 communities across 34 states, the District of Columbia, and the U.S. Virgin Islands and with a development portfolio valued in excess of $3 billion, The Michaels Organization is a national leader in the residential real estate industry, with full service capabilities in development, property and asset management, construction, mortgage finance, and tax credit syndication.
About Housing America
Housing America is a campaign designed to educate the American public about the critical role safe, decent and affordable housing plays in all aspects of life – for individuals, families, children and young adults, seniors, persons with disabilities, and our veterans, as well as for our communities and the national economy.