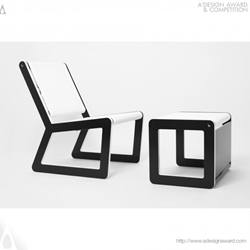 Como, Italy (PRWEB) October 08, 2013
A' Design ward and Competitions are happy to share that the design YO by Rok Avsec, Primoz Stupica and Tina Semolic has been announced as a winner of the notable Silver A' Design Award at Furniture, Decorative Items and Home ware Design Competition.
More information on YO chair
The YO chair follows the ergonomic principles of comfortable seating and pure geometric lines that abstractly form the letters "Y" and "O". It creates a contrast between a massive, "male" wooden construction and a light, transparent "female" composite cloth of the seat and back, made of 100% recycled material. The tension of the cloth is achieved by the interweaving of fibers (the so-called "corset"). The lounge chair is complemented by a stool that becomes a side table when rotated 90°. A range of color choices allows them both to easily fit into any interior.
To learn more about the award winning design, please visit: http://www.adesignaward.com/design.php?ID=27852.
Team Members for YO chair
The YO chair was made by Rok Avsec, Primoz Stupica and Tina Semolic.
The Silver A' Design Award
The Silver A' Design Award is a prestigious award given to top 5% percentile designs that has delivered an exemplary level of greatness in design. The designs are judged by a panel of three different jury which is composed of Academic, Professional and Focus Group Members. The designs are evaluated with score normalization to remove any biases and are voted on aspects such as functionality, ergonomics, engineering, presentation, innovation, usability, fun details, technology, and any other specific points that could be considered, each of these points are further weighted for different jury groups.
About A' Design Award and Competitions
A' Design Award and Competitions, aims to highlight the excellent qualifications of best designs, design concepts and design oriented products. A' Design Award and Competitions are organized and awarded annually and internationally in multiple categories to reach a wide, design-oriented audience. Learn more at: http://www.whatisadesignaward.com.