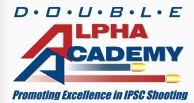 (PRWEB) October 06, 2013
For those who are first-timers, it could be a real challenge – pulling the handle, while making sure that powder does not spill over, seating the bullets manually, filling up powder and primers when they have gone empty and the occasional cleanup to keep running the machine smoothly. Ask any IPSC shooter around you and he will have to admit that reloading, while is a must for most divisions, is not great fun.
Well, this process has changed and there is no more need to seat the bullets manually on the cases, which in turns frees up one of the hands due to the ever-clever innovation by RAK Systems and Double-Alpha Academy. RAK Systems have developed the original Mr.Bulletfeeder a few years back, but Double-Alpha Academy have significantly improved the product and took it to the next level of function and reliability.
Double-Alpha Academy, based in the Netherlands, has recently launched a revised Mr.Bulletfeeder which is a fully automatic bullet feeder for the competitive IPSC shooters who wish to maximize their reloading process. The revolutionary bullet feeder system flips the bullets right way up while feeding a slide-through tube all the way to a gravity dropper which in turn feeds each case with a single bullet at a time. Needless to mention that the new process speeds up the reloading time by up to 50% and makes it safer as well. The new Mr.Bulletfeeder is available in three pistol calibers: 9mm, .40S&W and .45ACP. It is also available in two rifle calibers: .233 and .308. Caliber conversion kits makes swapping from one caliber to another a breeze. It does not come cheap, at around 470USD or 399EUR, it could be well out of reach for the "Sunday-Shooter" but there is a solution for that as well.
The Mini-Mr.Bulletfeeder was introduced a little while ago to cater for those who seek an affordable bulletfeeder solution – enjoying from the same functionality of its big brother, but at a fraction of the cost. The Mini-Mr.Bulletfeeder comes at 129USD or 119EUR and functions the very same way as the Mr.Bulletfeeder with one exception – the feeding of the bullets in the tube(s) is down manually while it is fully automatic on the previously mentioned model. Each rotating tube magazine would hold around 100 9mm rounds and could be filled up in a couple of minutes. The Mini-Mr.Bulletfeeder offers great time saving at an affordable price.
Mr.Bulletfeeder and its smaller sibling, the Mini-Mr.Bulletfeeder, are the perfect add-ons to any of the popular reloading machines on the market aimed towards the serious shooter who wishes to streamline his reloading.