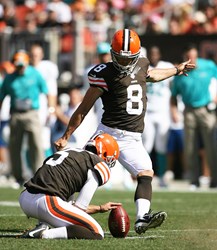 Ovarian cancer is often referred to as "the silent killer" because many women do not discover their disease until it is in the late stages, which leads to many women succumbing to the disease within a short period of time. - Billy Cundiff
San Diego, CA (PRWEB) October 06, 2013
Husted Kicking has interviewed Cleveland Browns' kicker Billy Cundiff on Kicking For The Dream, Cundiff's project designed to engage kickers - both young and pro - in the fight against ovarian cancer.
Go here for the complete interview with Billy Cundiff at Michael Husted.com.
In the interview with Husted Kicking, Cundiff talks about why he started Kicking For The Dream, a project that has already attracted the support from a number of former and current NFL kickers such as Morten Anderson, Nick Novak and of course Michael Husted.
"I created Kicking For The Dream to help in the fight against ovarian cancer," says Cundiff. "By getting specialists at all levels involved, I felt like we could make a bigger impact not only in raising money, but also in raising awareness."
Cundiff says the any money raised by Kicking For The Dream helps fund Colleen's Dream Foundation, a foundation he created in honor of his mother-in law Colleen Drury. Colleen's Dream Foundation supports "cutting edge" research for the early detection of, and improved treatment for, ovarian cancer.
Cundiff says ovarian cancer is called "the silent killer" for a reason.
"Ovarian cancer is often referred to as "the silent killer" because many women do not discover their disease until it is in the late stages, which leads to many women succumbing to the disease within a short period of time," says Cundiff. "Unlike cervical or breast cancer, ovarian cancer does not have a standardized early detection procedure. When it comes to women's health, ovarian cancer proves to be one of the deadliest diseases."
Cundiff says Colleen's Dream Foundation has already funded a number of research projects focused on the early detection of ovarian cancer.
"Colleen's Dream is working with some of the top research hospitals and universities that are researching ovarian cancer," says Cundiff. "By offering seed funding to young investigators, the Foundation funds cutting-edge research by some of the brightest, young minds in the world."
Go here for the complete interview with Billy Cundiff at Michael Husted.com.
About Kicking coach Michael Husted and Husted Kicking:
Kicking Coach Michael Husted is a retired 9 Year NFL Kicker. Husted's consistency on field goals and power on kick offs won him the job as an undrafted rookie. Husted went on to have a successful rookie season where he was named to Football Digest's All Rookie team.
During his time with the Tampa Bay Bucs, Husted established several records including:

All time leading scorer (502 pts.).
Longest field goal (57 yards).
Most 50+ field goals (10).
After his NFL career, Husted was involved in an online start up, iPlayers.net in 2005. This innovated site at the time took high school recruiting from "snail mail" to the internet. In 2007, the company was acquired by the Active Network in San Diego, CA. After working in the "corporate" world for a couple of years, Husted realized that one of his passions was helping athletes to leverage their sport for a college education.
Since that time, Husted founded Husted Kicking, his coaching and consulting business located in San Diego, CA, and the National Camp Series. Husted says the NCS platform was designed to objectively measure kickers, punters and long snappers through statistics thereby taking out the subjectivity in the evaluation process.