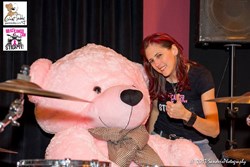 Anaheim, California (PRWEB) October 08, 2013
A six-foot pink teddy bear from Giant Teddy is grabbing the spotlight for October Breast Cancer Awareness month down in Texas, sponsoring of a series of events organized by new foundation "Breast Cancer Can Stick It!" Founder April Samuels is both a Triple Negative breast cancer survivor and a female rock band drummer, diagnosed in October 2010. Samuels started the foundation this year to raise awareness and funds using her musical background to reach new audiences. Triple Negative breast cancer is particularly aggressive and has more limited treatment options and a higher recurrence rate than other forms of breast cancer.
Breast Cancer Can Stick It! will host three events this October spanning three Texas cities to raise funds and awareness, including venues in Corpus Christi, Fort Worth, and Dallas, and will participate in the Susan G. Komen Dallas County Race for the Cure on October 19. Lady Cuddles, who has appeared on ABC's "Modern Family," lends her pink teddy bear charm to the events. "Everyone kind of notices you when you walk in with a six-foot giant pink bear, so she really helps grab attention," said Samuels. "Early detection probably saved my life, and I want others to know that cancer doesn't have to make you a victim. Together we will find a cure. And in the meantime, cancer of all kinds can stick it."
Giant Teddy CEO Ray Kohsravi said he is proud of the attention Lady Cuddles brings to breast cancer awareness. "They say everything in Texas is bigger… so naturally, only a giant pink teddy bear would do as a spokesbear." Kohsravi said Giant Teddy is donating five percent of all October pink teddy bear sales, including Lady Cuddles bears, to breast cancer research.
When asked about the name of her foundation, Samuels replied, "It was a nod to my drumming profession and determination to beat this that developed during my diagnosis, double mastectomy and chemo. The name, the logo, it all just took off, was put on merchandise, and helped me and all those who love me stay positive. Cancer tries to take so much from you – it took drumming from me for a while and that was really hard. When I got the all-clear after such a long journey, I needed to channel all that positive energy, and I used the name to start the foundation." The logo features Samuels sitting behind a drum kit.
For more information, visit breastcancercanstickit.org to donate, attend an event, or find resources.
Giant Teddy makes personalized bears in many colors and sizes up to six feet. For more information on the company or to purchase a pink teddy bear in support of breast cancer awareness, visit GiantTeddy.com or Facebook.