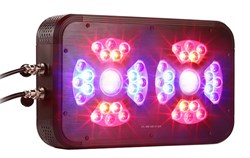 It's simply the lack of certified LED grow lights available to North America that restricts the greenhouse industry from switching over.
Revelstoke, British Columbia (PRWEB) October 07, 2013
CosmicGrowth.ca is located in the beautiful mountain community of Revelstoke, British Columbia. They have been providing quality LED grow lights and customer service to Canadians since early 2012. Now plans are to expand operations over the following quarter pending finalization of an ETL certificate for their G3-SmartGrow LED grow lights. Founder and CEO Luke OReilly anticipates demand to grow exponentially during the year of 2014 allowing his company to expand sales as well as research and development. Luke told us, "The moment our G3-SmartGrow LED grow lights are listed by InterTek, CosmicGrowth.ca will have a significant advantage over our competitors. We already supply state-of-the-art grow lights and soon we will join a small handful of companies that provide certified LED grow lights to the North American market". Advancements made in LED grow light technology have led to proper full spectrum lights that use high power integrated LED chips to fuel every photosynthetic requirement of all plants. CosmicGrowth.ca takes pride in their unique approach to marketing. "We spare no expense to provide the highest quality lights and service to our customers; this is where our competitors have always fallen short".
Rising energy costs are driving the demand for a more energy-efficient source of artificial lighting for use in commercial greenhouses. LED grow lights have a considerable advantage over HPS grow lights in that the spectrum produced can be refined to produce only the light required for photosynthesis. Energy savings of up to 60% can be realized by switching from traditional forms of artificial greenhouse lighting to improved LED grow lighting. High intensity discharge grow lights contain harmful mercury vapor in the bulbs which require replacement and proper disposal on an annual to semi-annual basis; this costs the greenhouse industry in Canada millions in lost profits that could be passed on in savings to the consumer. Considering that LED grow lights from CosmicGrowth.ca are manufactured with a RHOS environmental certificate and are rated for 35,000 hours of commercial production, it's easy to see why there is such high demand for these lights to be certified.
InterTek will certify the G3-SmartGrow LED grow lights for both commercial and industrial use in Canada and the United States. CosmicGrowth.ca plans to use this certification to enter an emerging market providing highly efficient grow lights to government licenced medical marijuana producers. Other markets include the existing vegetable production greenhouses such as Hot House as well as the emerging "rooftop" garden facilities and urban greenhouses sprouting up in metropolises across Canada. As the trend shifts to living a more sustainable, localized lifestyle green technology like LED grow lights will continue to enhance quality of life and inspire innovation in us all. LED lights are everywhere we look so why are greenhouses burning two to three times the electricity they need to run dated high pressure sodium grow lights? "It's simply the lack of certified LED grow lights available to North America. Like any new technology this one will take some time to prove itself and once it does there will be no looking back".