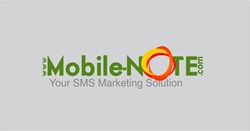 This just launched text message marketing service will make lead generation and client retention easy and affordable like never before.
Vacaville, California (PRWEB) October 08, 2013
Small and medium size businesses around the world can finally benefit from a cost-efficient text marketing service launched recently by Mobile-Note. This organization is known to provide game changing business solutions to help small to medium size businesses grow by standing out from competitors. The new Mobile-Note Marketing and Reminder service is customizable as per the specific requirement of businesses, and promises to deliver unbelievable return on investment for their marketing efforts. Text message marketing is the latest trend in the business world and Mobile-Note is providing an efficient platform for all businesses to benefit from it regardless of size.
All businesses are now jumping on the bandwagon to make the most out of the unique benefits offered by SMS marketing. Apart from being cost efficient, this marketing technique is reliable, flexible and has a high conversion rate. It has been observed that text messages have a much higher open rate comparing to emails. SMS is delivered within moments, making text message marketing the fastest of all marketing techniques. Instant Opt-In and Opt-Out is another important advantage of this emerging marketing solution.
The SMS messaging solution from Mobile-Note is built around maximizing efficiency covering all these benefits. Easy lead generation, efficient interface, management simplicity, and improved client relationship make Mobile-Note Marketing and Reminder service different from all other similar services.
Mobile-Note is presently offering four cost efficient service plans starting from $34/month only. However, the one with a monthly charge of $199 provides maximum value with a SMS credit of 5,000. The company is also offering a free 7 days trial pack with 20 SMS credit, and unlimited keywords and technical support. All these plans include set-up consultation, integration with Google, recurring appointments, social media widgets, detailed reports, and constant support.
On the occasion of the official launch of this unique service, the founder and owner of Mobile-Note Al Jackson said, "Mobile-Note realizes that every business has different needs and structures. This is why we are so customizable. Almost everything is able to be amended and changed to your own needs".
About Mobile-Note: Mobile Note provides businesses with affordable and easy to implement solution to their lead generation and client capture services. Using their extremely valuable yet affordable equipment, users may never lose another client again, bringing them back for more with organized, delightful customer service.
Contact:
Al Jackson
Website: http://mobile-note.com/
Email: aljackson(at)mobile-note(dot)com