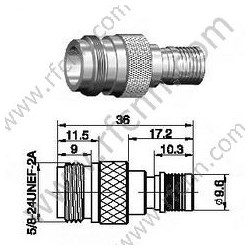 (PRWEB) October 06, 2013
Recently, RFcnn.com is one of the leading company in RF connectors, its updated website allows clients to share ideas and communicate easily and effectively. Today, the company introduces its SMA adapter collection, and launched a special offer on all its SMA adapters, up to 31% off.
Based on a sales manager of RFcnn.com, an SMA connector is a semi-precision coaxial RF connector, which is developed as a minimal connector interface for coaxial cable with a screw type coupling mechanism. The connector is said to be designed for use from DC to 18 GHz. The SMA adapters from RFcnn.com are specially designed for the standard SMA connectors on the market.
RFcnn.com is a global company headquartered in China, offering many SMA adapters, N RF connectors, SMA RF connectors, Mini Balun IDC connectors, SMB RF connectors and more. With fast delivery services, this business allows its clients get high quality low-priced products easily, for the convenience of their businesses. It does not matter if the customers are from the USA or Australia. Moreover, the cost of the SMA adapters and others can now be considerably reduced, making the products more affordable and easily accessible.
The CEO of the company says, "We take pride in offering high quality SMA adapters and RF connectors for our customers worldwide. Achieving the international quality standards in the industry takes rigorous effort throughout the company, and it would not have been possible without the efforts of all our staff"
About RFcnn.com
RFcnn.com belongs to Zhenjiang Fourstar Electronics Co. LTD, which is a China based company that deals in producing RF connectors and passive devices. RFcnn.com has been a leader in the design and manufacture of RF connector products, offering a wide range of solutions and unmatched customer service for its clients worldwide.
More details about the company's high quality SMA adapters can be found at http://www.rfcnn.com/RF-Adaptors.html