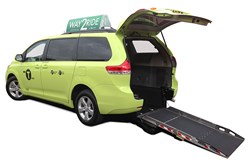 Akron, OH (PRWEB) October 08, 2013
Over the past few years, much focus has been put on Yellow Taxis in New York City by Mayor Bloomberg. Now with his new HAIL program, people in the surrounding boroughs will be able to street hail brand new Green Apple colored taxis and accessible vehicles. MobilityWorks Commercial of Akron, OH has had their wheelchair accessible Toyota Sienna and Dodge Grand Caravan minivans approved for sale to owners and drivers in the five boroughs as an official Green Taxi.
The city has come forward with a $15,000 up-front payment to anyone purchasing a new wheelchair accessible taxi. In addition, some may qualify for additional tax credits of up to $10,000 or a total of up to $25,000 off the purchase of a new accessible taxi. MobilityWorks has had representatives visiting all of the taxi bases in the boroughs to educate and assist base owners and drivers on purchasing the best wheelchair accessible Taxi vans for their needs, and also to provide training after the purchase.
All accessible minivans available from MobilityWorks are rear-entry which is the best choice for picking up hails from either side of the street.
MobilityWorks has been building wheelchair accessible vehicles for companies throughout the United States since 1997, and for taxi companies for the past three years. They continue to develop new vehicle platforms and product innovations, like the exclusive Flex-Flat Ramp, specifically for the taxi industry.
The Flex-Flat Ramp, which was designed based on input from taxi drivers and owners, folds flat when not needed, giving the rear of the van a trunk-like deck for luggage, golf clubs and other cargo. This ramp has created the most versatile taxi available – one which can be converted from accessible to standard in seconds.
For more information on MobilityWorks' wheelchair accessible Taxis, visit http://www.MobilityWorks.com/taxi or contact Michael Shank, General Manager – Taxi, at 347-871-8294.
###
MobilityWorks Commercial is the leading builder of wheelchair accessible vans, minivans, taxis and shuttles in America. MobilityWorks Commercial has Ford's largest mobility bailment pool with E-Series units and Transit Connects in stock, and among the fastest lead times in the industry. Every vehicle available is compliant with FMVSS, OEM & ADA standards, including crash testing and seat pull testing.
More information can be found at http://www.MobilityWorksCommercial.com, or call Jim Cermak, MobilityWorks Commercial Marketing Specialist at 330-861-1118.