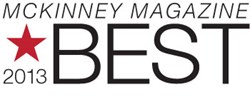 We appreciate your support of local businesses and would like to offer congratulations to our 2013 Best Of winners!
McKinney, TX (PRWEB) October 08, 2013
The response to this program is exciting and promising. The McKinney Chamber of Commerce supports McKinney businesses, educates consumers and partners with local organizations to promote buy local initiatives. Programs, like Best Of, allow consumers to support businesses that provide exceptional goods and services right here in McKinney.
Studies show that local retailers return more than 50 percent of their revenue to the local economy. Local restaurants re-circulate an even higher percent of their revenue locally. The difference can be attributed to many factors; independent businesses spending more on local labor, goods procured locally for resale and services from local providers. This means a much larger share of the money you spend at a locally-owned store stays in your local economy, supporting a variety of other businesses and jobs.
McKinney Chamber President Jodi Ann LaFreniere Ray states, "Buying local allows consumers and businesses to work together to make this community better. For every $100 spent in McKinney, $68 stays in McKinney. We appreciate your support of local businesses and would like to offer congratulations to our 2013 Best Of winners!"
Accountant
John Harman, CPA, PLLC
Automobile Dealer
Tomes Auto Group
Automobile Service
Tomes Auto Group
Bakery
Nothing Bundt Cakes
Bank
Chase Bank
Bar/Pub/Nightlife
Cadillac Pizza Pub
Business Lunch
Rick's Chophouse
Chiropractor
Health Source Chiropractic & Progressive Rehab
Cleaning Service
Executive Touch Cleaning Services
Day Care/Preschool
Heritage Learning Center
Dentist - Adult
Your Downtown McKinney Dentist
Dentist - Pediatric
Texas Pediatric Dentistry, P.A.
Financial Planner
Lance Lindsey, LPL Financial
Flooring Company
Branded Floors, Inc.
Florist
Edwards Floral Design
Golf Course
Stonebridge Ranch Country Club The Ranch Club - The Hills Course
Heating & AC Company
Bill Joplin's Air Conditioning & Heating
Homebuilder
Darling Homes, Inc.
Hospital
Baylor Medical Center at McKinney
Hotel/Motel
The Grand Hotel
Insurance Agent
Farmers Insurance Agency / Mike Crise
Jeweler
Griffin Jewelry
Kennel/Pet Resort
2nd Family Dogs, LLC
Kid's Entertainment
Elevate Trampoline Park
Landscaper
Haynes Landscape & Maintenance
Law Firm/Attorney
Burress Snellings Law Firm, PLLC
Margarita
Cristina's Mexican Restaurant
Mortgage
Service First Mortgage
Music Venue
Cadillac Pizza Pub
Optometrist
Pinnacle Eye Associates, P.A.
Orthodontist
Smiles Hollywood Style Orthodontics
Pet Groomer
Fur Friends Pet Salon
Photographer
Jilly Bean Photography
Physician - Dermatologist
Dermatology Center of McKinney, James Ralston, MD
Physician - Family
McKinney Family Healthcare
Physician - OB/GYN
Adriatica Women's Health
Physician - Pediatrician
Stonebridge Pediatrics
Plumber
Benjamin Franklin Plumbing
Pool Contractor
McGee Pool & Patio, Inc.
Real Estate Agent/Group
Riederer - Hogan Group
Ebby Halliday Realtors
Restaurant
Rick's Chophouse
Restaurant - Asian
Pei Wei Asian Diner, Inc.
Restaurant - Barbecue
Hutchins BBQ
Restaurant - Hamburger
Square Burger
Restaurant - Mexican
San Miguel Grill
Restaurant - Pizza
Cadillac Pizza Pub
Restaurant - Steak
Rick's Chophouse
Romantic Dinner
Rick's Chophouse
Roofer
Tallent Roofing, Inc.
Salon Hair/Nails
Ericka's Hair On The Square
Spa
Cooper Spa at Craig Ranch
Venue for a Wedding
Gather in Downtown McKinney
Veterinarian
Highlands-Eldorado Veterinary Hospital
About McKinney Magazine
McKinney Magazine is a publication of the McKinney Chamber of Commerce and is the premier lifestyle magazine for the McKinney area. McKinneyOnline.com is the web complement to McKinney Magazine. The Best of McKinney program, now in its fifth year, allows consumers to recognize businesses who provide exceptional goods or services in McKinney.
About the McKinney Chamber of Commerce
The McKinney Chamber of Commerce is an advocate for the McKinney business community and serves as the unified business voice of McKinney. The McKinney Chamber of Commerce is the fourth largest Chamber in the Metroplex and holds a four-star accreditation with the U.S. Chamber of Commerce. The Chamber proudly serves over 1,200 member businesses representing over 39,000 employees throughout the North Texas Region. With a rich heritage of leadership and collaboration, the Chamber works in concert with the City of McKinney, community partners and the corporate community to promote, advocate for and expand business. As publisher of McKinney Magazine,McKinneyOnline.com and McKinneyChamber.com , the McKinney Chamber markets the community's advantages as the foremost location for doing business.