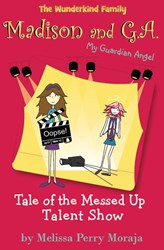 Madison and GA (My Guardian Angel): Tale of the Messed Up Talent Show is an entertaining, kid quirky children's chapter book, perfect for the holiday gift list!
Charlotte, NC (PRWEB) October 08, 2013
Author and illustrator, Melissa Perry Moraja, is set to release her fourth Wunderkind Family children's book—Madison and GA (My Guardian Angel): Tale of the Messed Up Talent Show on stage at the Southern Christmas Show in Charlotte, NC on November 17th at 2:00 pm. Show attendees will be able to join Melissa for children's story time on the entertainment stage, where she'll be reading excerpts from her latest modern-fantasy children's chapter book release, Madison and GA (My Guardian Angel): Tale of the Messed Up Talent Show. Directly after the reading, autographed copies of the latest Wunderkind Family installment will be available for purchase.
"The Southern Christmas Show is one of my favorite events and I'm excited that it's the first event that I will be sharing Madison and GA's second story in the Wunderkind Family series," Melissa shares. "The Tale of the Messed Up Talent Show is comically illustrated and kid quirky. In this story, Madison finds out that being 'Little Miss Popular' isn't all it's cracked up to be. But that's just the icing on the cake. What I love about Madison Wunderkind and her klutzy, curious guardian angel is that in every story they are teaching children that they don't have to be perfect. Even Madison's guardian angel isn't."
Madison and GA (My Guardian Angel): Tale of the Messed Up Talent Show goes on sale to the general public on November 15, 2013 through local bookstores, Amazon, Barnes and Noble, Apple iTunes, and more!
The Wunderkind Family series is a collection of humorous, modern-fantasy stories, each told by one of the four whimsical Wunderkind sibling characters, about what it's like growing up as a kid with extraordinary abilities in the town of Boring Brook. (Target age: 6 – 12 years old)
About Melissa Productions, Inc.:
Melissa Perry Moraja is an entrepreneurial mom, a multifaceted business woman and a creative producer, authoring and illustrating numerous children's stories and self-help books. Founded in 2009, Melissa Production's mission is to offer humorous, inspirational products and services that promote self-awareness, creative learning, and leadership with the family in mind. With popular story book characters like Splatter, she speaks to children's hearts through humor and parents' thoughts by providing educational stories. For more information, please visit http://www.melissaproductions.com.
Southern Christmas Show: From its beginnings in 1968, the Southern Christmas Show has become a holiday tradition for families and friends throughout the region. One of the best-attended consumer shows in the nation, it annually attracts over 100,000 show guests ready to start the holiday buying season. http://www.southernshows.com.
Contact:
Melissa Perry Moraja
Founder and CEO, Melissa Productions, Inc.
704-246-7304
http://www.melissaproductions.com