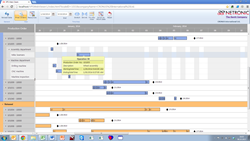 Our strong commitment can be seen from the fact that we are the first to launch an HTML5/ Javascript Gantt chart add-in for Microsoft Dynamics NAV.
Nashville, TN (PRWEB) October 07, 2013
The Visual Production Scheduler is a fully integrated add-in into Microsoft Dynamics NAV. It provides interactive Gantt charts that enable manufacturing customer to manage their production schedule efficiently and to take corrective actions immediately. The add-in is fully based on Microsoft Dynamics NAV standards. Hence, it requires only minimal implementation and training efforts.
The Visual Production Scheduler Web Client annouced today is fully based on HTML5/ Javascript technology. Hence it can run on any browser and on any device without requiring any client-side installation. The initial version supports to view the Dynamics NAV production schedule in a production order-centric and a resource-centric way. Interactive functionality will be added in 2014. With developing a HTML5/ Javascript add-in, NETRONIC consequently follows Microsoft's approach to give customers the full choice how to access business-critical information.
In addition to this, NETRONIC also continues to enhance the Visual Production Scheduler Windows Client in an agile way. The initial version was launched in March this year and version 1.1 was made available four months later. Version 1.2 now brings a fully flexible filtering capability. Due to the unique product concept as an add-in, users of the Visual Production Scheduler do not need to learn any third-party software. They can just continue to use the standard Microsoft Dynamics NAV filter to select the data they want to see in the Gantt chart. This enables them to focus on information only which are relevant for their day-to-day tasks.
Dr. Martin Karlowitsch, Managing Director of NETRONIC, comments: "I am pleased with the momentum we have been gaining in the Microsoft Dynamics NAV market. We launched the Visual Production Scheduler in March this year. Since then 21 resellers from 12 countries on 3 continents decided to include the product into their solution portfolio. The new product versions both for the Windows and the Web Client underline that our Dynamics NAV initiative is strategic for us. We aim at providing our partners with state-of-the-art add-ins which help them winning new customers. Our strong commitment can be seen from the fact that we are the first to launch a HTML5/ Javascript Gantt chart add-in for Microsoft Dynamics NAV."
Both the VPS Web Client and the VPS Windows Client 1.2 will be available for all partners and customers latest on October 31, 2013.
About NETRONIC Software GmbH
The Aachen (Germany) based NETRONIC is "The Gantt Company." Interactive Gantt charts bring transparency into production, project and process data and improve planning and scheduling of resources, jobs and workflows. Since decades, the Gantt chart is our core competence – resulting in three business lines: (1) With the Gantt chart controls VARCHART XGantt and VARCHART JGantt, we address software vendors who typically develop industry-specific planning and scheduling solutions. (2) The Visual Production Scheduler is for partners and customers of Microsoft Dynamics NAV and provides a fully integrated, intuitive graphical visual production scheduling support. (3) Based on our Gantt know-how, we also develop custom-made scheduling applications for end customers who want to improve their short-term production scheduling. You can find more information at http://www.netronic.com.