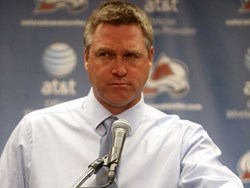 Denver, Colorado (PRWEB) October 07, 2013
Amidst the daily buzz of post season MLB Baseball and regular season NHL Football, NHL Hockey took the ice last week in a flurry of team openers. Just three games into the 82-game regular season, ticket sales are breaking loose for several of the sport's 30 squads.
As per data provided by online ticket marketplace BuyAnySeat.com, this week's top sellers are the Colorado Avalanche, Carolina Hurricanes, Boston Bruins, Minnesota Wild, New York Rangers and Chicago Blackhawks.
The Avalanche, who went 16-25-7 with 39 points for last place in the West, just hired two of the most popular players in team history, Joe Sakic and Patrick Roy, as VP of operations and coach. The team also won the draft lottery, and used the top pick for promising young center Nathan MacKinnon.
Adding fuel to the ticket fire, Roy was just fined $10,000 for his actions at the end of his victorious coaching debut. During a shouting match with Anaheim Ducks coach Bruce Boudreau, he twice shoved the glass partition between the two benches, nearly pushing it over.
Roy initially was upset at Ducks defenseman Ben Lovejoy, who hit Avs rookie MacKinnon with what appeared to be a knee-on-knee hit.
"While NFL Football and MLB Baseball tickets are trending, we're seeing a dramatic increase in sales for NHL tickets, as well as Advance Auto Parts Monster Jam tickets," said Felina Martinez at online ticket marketplace BuyAnySeat.com.
"That's why we're proud to offer sports fans the most comprehensive and continuously updated selection of sports tickets online, with a worry-free guarantee to protect their purchase," said Martinez.
"To access the full line-up of NHL Hockey tickets now available, customers can go to BuyAnySeat.com and click on NHL Hockey – then select their team and their tickets," said Martinez.
For this year's season, the NHL has undergone a realignment. The old six-division format has been replaced by four new divisions: the Atlantic, Pacific, Central, and Metropolitan. But, according to Sean McIndoe at grantland.com in his October 1, 2013 season preview, this year's legitimate Cup favorites include the same seven teams seen pretty much every year.
These squads encompass the Chicago Blackhawks, the league's best team from start to finish last season with a record of 36-7-5, 77 points, and the Presidents' Trophy – aka the Stanley Cup. They're bringing back essentially the same roster, making the team the top pick right now, says McIndoe.
Other top contenders for the Cup, in the writer's opinion, include the Boston Bruins, Pittsburg Penguins, L.A. Kings, St. Louis Blues, New York Rangers and Detroit Red Wings.
In term's of the outlook for the Colorado Avalanche and their hot new coach, the fiery former goalie Patrick Roy, McIndoe writes, "Well, at least they'll be interesting. The team is stacked with young talent, especially up front, that could evolve into a powerhouse someday.
"That almost certainly won't happen this year, but at least there's hope. And, while Roy may be a notorious hothead with no professional coaching experience, his success in the junior ranks actually makes him a decent choice to lead a team built around youth."
The National Hockey League operates a major professional league of 30 franchised member clubs, of which seven are located in Canada and 23 in the U.S. The NHL is one of the four major professional sports leagues in North America, along with Major League Baseball, the National Football League, and the National Basketball Association.
Overall, hockey has the smallest total fan base of the four leagues, the smallest revenue from television, and the least sponsorship – although it is the most popular of these four major sports in Canada. In addition, a study by the Stanford Graduate School of Business in 2004 found that NHL fans in America were the most educated, affluent and computer literate of the four major leagues. (Source: Wikipedia.org)
To shop for discount NHL Hockey tickets, visit BuyAnySeat.com.
About BuyAnySeat.com: An online ticket marketplace, BuyAnySeat.com connects sports, theater and other live entertainment fans to an extensive network of ticket sellers worldwide. The site's simplified listings and navigational tools enable shoppers to easily locate, compare and purchase inexpensive, discounted or lower-priced tickets to virtually all advertised sports and entertainment events around the globe.
The ticket marketplace, which is PCI-compliant and Norton Secured, also provides customers with a complete Worry-Free Guarantee on all ticket purchases. Based in Denver, Colorado, BuyAnySeat.com is a subsidiary of Denver Media Holdings. For more information, please visit http://buyanyseat.com.
(Photo: courtesy of Chris Humphreys, USA TODAY Sports)