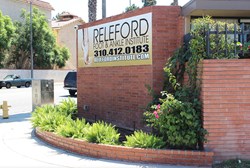 Los Angeles, California (PRWEB) October 08, 2013
Dr. Bill Releford, medical director and originator of the Releford Foot and Ankle Institute, reported today outcomes from several model studies using platelet rich plasma therapy to improve chronic nonhealing wounds. Each patient was recommended for high level amputation and were not potential candidates for revascularization or had failed attempts to be revascularized or had comorbidities that were contraindications to revascularization. Each patient was approached with a series of three injections of PRP over a six-week period. The most outstanding initial subjective finding was decreased discomfort attributed to ischemia. "After the first failed bypass surgery I was scheduled for another attempt. If that didn't do the job, then amputation of my left leg was the very last course. The good results in my left leg and wound has been so great that my vascular surgeon has postponed the second bypass," states Robert J., patient at the Releford Foot and Ankle Institute.
"This is a unique and intriguing application of platelet rich plasma therapy, which is typically used in the sports medicine arena," states Dr. Bill Releford. "P.R.P. is an additional resource to help decrease the amputation rate among those that are largely at risk," Dr. Releford continues.
ABOUT P.R.P.
Platelet Rich Plasma procedures, also known as P.R.P., is a breakthrough way to manage tissue impairment by using "healing" components obtained from a patient's own blood. These "healing features" or growth factors have been shown to be effective in remedying ankle injuries, Achilles Tendonitis, Heel Pain/Plantar Fasciitis, Ischemic Pain as well as chronic non-healing wounds, as cited in the Journal of Orthopedic Research (Jan 2006). This therapy has been recently popularized by success experienced by professional athletes such Tiger Woods, Pittsburgh Steelers Hines Ward and Troy Palomalu.