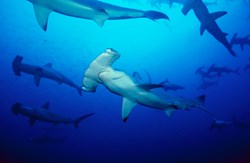 North Reading, MA (PRWEB) October 08, 2013
Oceanic Research Group is pleased to announce that PBS LearningMedia has added the STEM educational resources of the national public television series "Jonathan Bird's Blue World" to its on-demand media library offerings as the Jonathan Bird's Blue World: Underwater Science Adventure collection (http://www.pbslearningmedia.org/collection/jonathan-birds-blue-world/). These Emmy award-winning videos are 10-15 minutes long and take students on an underwater adventure while weaving science education into an engaging story. Aligned to National Science Standards, the videos with accompanying lesson plans and study guides include student activities to reinforce and extend the learning opportunities.
"It is exciting to be able to bring our award winning educational materials into classrooms to enrich students' learning," says series host Jonathan Bird. "By combining the exciting visual aspect of the video with the science content, we have created an engaging and fun way to teach science."
On the web, at http://www.blueworldTV.com, and on DVD, "Jonathan Bird's Blue World" has been shown to be a valuable and entertaining tool for science education. Teachers across the country incorporate "Jonathan Bird's Blue World" into the classroom to illustrate science and oceanographic concepts. With partial support from the National Science Foundation, "Jonathan Bird's Blue World" offers STEM focused educational online resources. These materials illustrate topics such as sound, light, osmosis, pH and buoyancy with videos of sperm whales, camouflaged fish, mangroves, coral reefs and sharks.
About "Jonathan Bird's Blue World":
"Jonathan Bird's Blue World," a 2013 National Emmy nominated and eight-time New England Emmy award-winning program, takes viewers on an adventurous exploration of the world's oceans in a series the whole family will enjoy. Filmed across the globe, each episode brings viewers to the edge of their seats as they wait to find out if the mother turtle can drag herself across the beach in the middle of the night to lay her eggs or what lurks behind the next stalagmite in an underwater cave. Jonathan frolics with tiger sharks in the Bahamas, excavates the pirate Blackbeard's shipwreck alongside underwater archaeologists, dives in NASA's Neutral Buoyancy Laboratory with astronauts, and even learns what life is like living in Aquarius Reef Base 50 feet under the surface of the ocean.
"Jonathan Bird's Blue World" has aired continuously on public television stations in over 78% of the United States since May 2008. Co-produced by Jonathan Bird Productions and Oceanic Research Group, the series has been shown over 18,000 times in 41 states. Season 4 will be released to public television in early 2014 with more exciting adventures.
About PBS LearningMedia
As America's largest classroom, teachers of children from pre-K through 12th grade turn to PBS for digital content and services that help bring classroom lessons to life. PBS LearningMedia, a partnership of PBS and WGBH Educational Foundation, is a free media-on-demand service available to educators nationwide. It brings together the best of public media and delivers research-based, classroom-ready rich media experiences that engage students in exploring curriculum concepts that align with National and Common Core State Standards. Drawing from critically acclaimed PBS programs such as NOVA, FRONTLINE, AMERICAN EXPERIENCE, and PBS KIDS programs like SID THE SCIENCE KID, as well as content from organizations including The National Archives, Smithsonian, NPR and NASA, the free service offers teachers access to more than 30,000 videos, images and articles to enrich classroom instruction. Nationwide, more than 1,000,000 teachers have registered access to PBS LearningMedia. More information about PBS LearningMedia is available at http://www.pbslearningmedia.org or by following PBS LearningMedia on Twitter and Facebook.
###