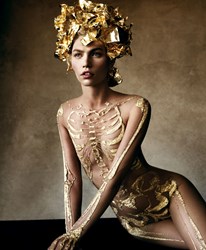 "For anyone wanting to look and feel stylish and at the top of their game, Kallah is the one to call!" - Dean
Los Angeles, CA (PRWEB) October 07, 2013
A number of satisfied Emerald Scarab clients have utilized the existing Emerald Scarab RSVP service for special events, from weddings to New Years Eve parties. The exclusive styling and shopping service assumes the reins of your special event, taking care of everything from styling the look for the evening to arranging for your transportation to the event. They even take care of selecting the perfect gift for a hostess!
This October, Emerald Scarab unveiled (or unmasked!) the Halloween edition of its RSVP service. One call and they'll handle everything you could possibly need to make the night full of stress-free tricks and well-deserved treats!
Need an outfit? They've got the expertise to assemble a perfect outfit for all (and the cohorts of the evening debauchery). No more last-minute Halloween costume shopping at packed department stores. The Emerald Scarab stylists take care of that well in advance.
Attending a spooky bash? Emerald Scarab will select a memorable hostess gift or, as the hostess, perfectly unique and classy favors. Halloween doesn't have to be a candy overload, and Emerald Scarab can help to get creative with gifting this year.
Even more than just favors, the service can help the busy hostess take care of event invitations as well. And with so many party options on Halloween, it is important to send out a sophisticated, memorable invitation that guests won't be able to resist.
The Emerald Scarab takes all of the hassle out of Halloween; so be the best dressed and least stressed ghoul at the ball!
To learn more about the Halloween Edition of the Emerald Scarab RSVP Service, visit http://emeraldscarab.com/news/halloween-the-emerald-scarab-way.
To learn more about The Emerald Scarab or its founder, Kallah Maguire, visit http://emeraldscarab.com.