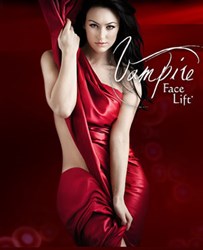 The procedure can turn back the clock or enhance an already beautiful face, as in the case of Kim Kardashian.
Macon, GA (PRWEB) October 09, 2013
The Vampire Facelift is the latest buzz in non-surgical procedures capturing the attention of young and old, Hollywood and locals, TV talk shows and medical journals. (http://www.youtube.com/watch?feature=player_embedded&v=xzW5Ys-MU0w) The out-of-the-box thinking of Dr. Charles Runels resulted in this revolutionary procedure using the patient's own growth factors found in their blood. The procedure can turn back the clock several years or enhance an already beautiful face, as in the case of Kim Kardashian and other celebrities. The Vampire Facelift was a featured item in the swag bags at the 2012 Oscar's event in Los Angelos.
The procedure consists of the medical practitioner collecting a vial of blood much like a simple blood test in a lab, giving the procedure its name, Vampire. The blood is immediately centrifuged to separate the red cells from the plasma containing the growth factors. These factors are in the platelet rich plasma, or simply PRP, of the blood and act as fertilizer for stem cells. The practitioner then injects the PRP to create the shape and contours of a beautiful face. In approximately 10-12 weeks, the soft tissue grows to support the new shape. The office based procedure is performed in about 45 minutes. The patient has very little discomfort and is ready to resume activity immediately, making it ideal for busy women and men who don't have time for more drastic, invasive procedures.
The use of PRP is not new to medical specialists. It has been used in orthopedics, dental surgery and cardiovascular surgery for a number of years. Dr Runels coined the procedure for facial aesthetics in 2010 and has performed hundreds of them in his Fairhope, Alabama medical practice. He has written a book by the same name which details his journey from thought conception to its use in other areas, as well.
Terri Harper, nurse practitioner and owner of Spa Medical in Macon, is the exclusive provider of the Vampire Facelift in the middle Georgia area. Her business will be hosting Dr. Runel's at a Vampire Event on Thursday October 24th from 5-8 p.m. Dr Runel's will be signing his book, answering questions about the procedure and narrating a live demonstration performed by Terri. This educational event is open to the public.