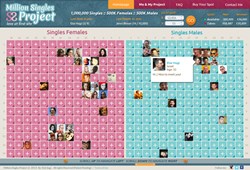 True love has a one in a million chance.
Tel-Aviv, Israel (PRWEB) October 08, 2013
A new website claims to display one million singles from around the world on one webpage. The website, established by 32-year-old Israeli Etai Hugi, attempts to collect one million male and female singles from all over the world on a single page. The founder claims that following a disappointing love affair that left him with a broken heart, he heard from a friend that "true love has a one in a million chance" and decided to take this one step further, establishing a website that intends to display half a million single females on one side and half a million single males on the other. He named it "The million Singles Project", or MillionSinglesProject.com.
Participation in this project costs $1 for a lifetime membership, guaranteeing a picture of the participant + a short text and a link of the participant's choice. The website was set up in English and addresses singles all over the world. The founder says that in the future, a search by country will be enabled.
The website includes a Q&A section on the project and insights on the singles market, as well as what to do with the million dollars gained by the project. Some of the answers are funny and introduce a fresh aspect to the dating scene. It seems that we won't be passing the coming winter alone.