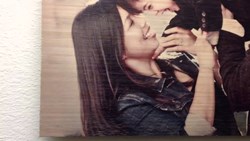 "We are really excited about this product," says Joe Hill, VP of Product Development at Prolab Digital, "it's a great way to present your images to the world, and it's fantastic for the environment too."
Los Angeles, CA (PRWEB) October 16, 2013
Prolab Digital is thrilled to unveil a revolution in art display: bamboo printing. East Asian cultures have printed text and images on bamboo for millennia, now Prolab Digital has innovated this ancient art form for the modern world.
Prolab Digital has already produced hundreds of bamboo prints for Fortune 500 companies, individual clients, and mom and pop retail outlets looking for images with an earthy aesthetic that are also environmentally friendly.
Unlike other companies, Prolab Digital prints directly onto the surface of the bamboo instead pasting a pre-printed acrylic onto the wood. The direct printing method offers Prolab's clients images that are both stunningly crisp, yet melded into the grain of the wood itself, providing a genuinely organic feel to the image and ambiance of the room.
Aside from its visual appeal, bamboo offers the additional benefit of being renewable, eco-friendly, and completely biodegradable. It is almost impossible to find a more environmentally friendly printing method than Prolab's bamboo prints.
Standard thicknesses for artistic bamboo prints are 1/4," 1/2," and 3/4." Prolab Digital prides itself in its insatiable drive for customer satisfaction and being able to produce client imagines in unusual sizes or shapes, we will look forward to the challenge. Most orders can be completed within seven days. Rush orders are also available.
Contact Prolab Digital today to learn more about bamboo printing today!
About Prolab:
Prolab Digital Imaging is the world's premier source for high quality printed graphics for corporate, artistic, and personal display. Trusted by the Fortune 500, the Academy Awards, and discriminating consumers alike, we are absolutely confident we can meet your needs.