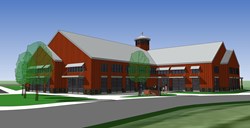 The new building enables us to provide even more efficient services, and the Interpretive Center offers visitors a quality destination to explore.
Kalama, Washington (PRWEB) October 07, 2013
The Port of Kalama commission voted this week to award a construction contract for a new facility that will not only celebrate Kalama's unique place in Pacific Northwest history but house its administrative offices. The commission voted to award the $4,500,000 construction contract to Berschauer Group, an Olympia-based construction and development company specializing in office, industrial, retail, multi-family and mixed-use real estate. Construction starts this fall and will be complete by fall of 2014.
The Transportation Interpretive Center, which will focus on the area's history as a regional commercial and transportation hub, is designed to resemble a traditional waterfront warehouse of the 1800s. Cultural artifacts, memorabilia and replicas of the past will pose life-sized within its walls and bring history alive for its visitors. In addition, the building offers the Port an opportunity to expand into facilities that will enable staff to manage the myriad development projects slated in the coming years.
"Kalama has a rich history, and the Interpretive Center will illuminate historically how transportation has helped position the port as a contributor to the local economy, and how our roots have created what we are today," said Troy Stariha, Commission President of the Port of Kalama. "In addition, with growing business opportunities and development, the port has outgrown its current facilities. A new administrative office enables us to provide even more efficient services to our Port businesses, and the Interpretive Center offers the community and visitors a quality destination to explore."
Berschauer Group, formerly Berschauer Phillips Construction, will be responsible for delivering a fully-functional building and community cornerstone. The building was designed by Collins Architectural Group of Longview, WA.
"We offer our clients a family legacy of successful construction projects built on hard work and a no-nonsense approach to general contracting and real estate development," said Regan Berschauer. "What's exciting about this project is that we are fulfilling a need to build new administrative facilities at the port while weaving the history of the region into the fabric of the building."
With the construction of the Interpretive Center, the Port underscores that much of what made Kalama thrive in the past, still holds true today. Kalama remains an ideal place to do business just 30 minutes from international air travel in Portland, Oregon.
About Port of Kalama – Where rail and water meet:
The Port of Kalama is located in Southwest Washington on the Columbia River and immediately off of Interstate Highway 5. The port exists to induce capital investment in an environmentally responsible manner to create jobs and to enhance public recreational opportunities. Port of Kalama's industrial area includes five miles of riverfront property adjacent to the 43' federally-maintained deep draft navigation channel of the Columbia River. The Port is served by the Burlington Northern/Santa Fe and Union Pacific railroads. There are over 20 industries located at the Port of Kalama, employing over 830 people. Port of Kalama offers all the superior facilities businesses need to thrive, and an unsurpassed quality of life. The port offers shovel ready sites, a new Industrial Park, state of the art Marine Terminals and transportation accessibility to rail and highway all just a 30 minute drive to the Portland International Airport. Port of Kalama also offers high-bandwidth communications, with dual access fiber-optic service to Seattle and Portland. Properties currently available at the port for businesses wishing to expand and thrive: http://www.showcase.com/lnewman@portofkalama.com Visit http://portofkalama.com/industrial_property.