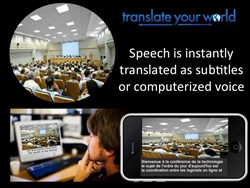 Software for cross-language speaking aims to propel businesses and education into new global markets.
Atlanta, GA (PRWEB) October 10, 2013
Andrea Busse, CEO of IntelaText, and Sue Reager, CEO of @International Services, jointly announced the release of the first speech translation platform for business in 78 languages, distributed under the name Translate Your World. Using this software, a speaker's voice is automatically translated in real-time. The results appear as subtitles in 78 languages and can be heard as computerized voice in 35 languages.
The Translate Your World suite also includes online video subtitle software, international mobile marketing applications, and crowd-sourced translation management tools.
The collaboration between Andrea Busse and Sue Reager has the potential to change the marketing plans of thousands of businesses. With the advent of this cross-language speech translation software, the world now has a choice between spending 3 to 5 years learning one single language or buying an inexpensive web software to speak multiple languages in a few hours.
For global corporations, the software can lower the price of customer service and training up to 95%. For entrepreneurs, the software is an arsenal of tools for low-investment, low-risk expansion into territories speaking other native tongues.
While many Americans scratch their heads and wonder why anyone would want to speak another language at all, the Europeans, Asians, Africans, and Middle Easterners embrace this first consolidated bridge over the language barrier. And while traditional business owners continue to bemoan a slumping economy, Andrea Busse and Sue Reager are opening the floodgates to a world of global business for every entrepreneur in every country simply by releasing the world from its most inhibiting impediment: language.
###
About the companies:
Andrea Busse's core company, IntelaText, specializes in top-tier mobile engagement development and custom mobile applications. Busse's clients include the Fortune 1000, Hollywood movie producers, and professional sports. Sue Reager's company, @International Services, develops media translation software for subtitles and human voice. The company has a professional services branch providing professional translation and interpretation.