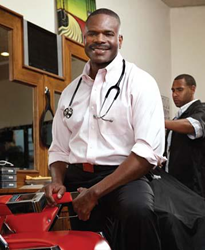 (PRWEB) October 07, 2013
Shin splints can literally become an athlete's Achilles heel. This very common symptom, suffered mainly by athletes, can be triggered be several conditions. No matter precisely what the reason, the outcome can be unbearable pain and in most cases extended months of recovery and rest. Using a revolutionary new Platelet-Rich Plasma (PRP) therapy, Dr. Bill J. Releford can substantially reduce the painful manifestations of shin splints, speed the therapeutic process, and get athletes on their feet once again – rapidly.
"An athlete came to see me after suffering from painful shin splints for more than a year. He spent several months on the sidelines, unable to enter in competition," said Dr. Releford. "After just one series of PRP injections, the sprinter was back on the track, without any pain, and put in a solid performance."
A doctor of podiatric medicine, Dr. Releford is the medical director and founder of The Releford Foot and Ankle Institute and Beverly Hills PRP. He finds PRP injections beneficial in his practice and uses them to treat sports-related and orthopedic injuries, and many other conditions.
PRP therapy is non-surgical. By injecting a small, concentrated amount of a patient's own blood into injured tissue, PRP therapy "supercharges" the healing process and reduces or even eliminates pain.
About Platelet-Rich Plasma Therapy
PRP therapy is an innovative, non-surgical approach that uses healing components derived from a small, concentrated amount of a patient's own blood. Injected into damaged tissue, PRP therapy has the potential to "supercharge" the healing process. PRP has been successfully used in orthopedics and sports medicine to treat joint and tendon pain, ankle sprains, heel pain, non-healing wounds, plantar fasciitis, poor circulation, diabetic neuropathy, and many other conditions, as cited in the Journal of Orthopaedic Research (Jan. 2006). Recently, PRP therapy has made headlines due to its successful use by professional athletes like Tiger Woods, Kobe Bryant, Alex Rodriguez, and Rafael Nadal.