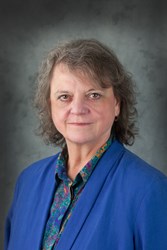 I've already seen the commitment throughout the Riverside system, not just in the hospitals, to improve the quality of care provided to older adults.
Newport News, Va. (PRWEB) October 07, 2013
Kathleen Fletcher has already spent nearly three decades of her career helping enhance the quality of health care older adults receive, and now she's bringing her wealth of experience and knowledge to Riverside Health System to further that work.
Riverside named Fletcher its Director of the Geriatric Nurse Clinical Practice Program, a system-wide position created to help transform not only the way Riverside cares for older adults, but also the way health care providers improve geriatric patient outcomes across the country.
Eight out of every 10 patients across the health system are older adults, said Dr. Kyle Allen, Riverside's Vice President of Clinical Integration and Medical Director for Geriatric Medicine and Lifelong Health.
"The largest group of employees in the health system are nurses," Allen said. "Ensuring that our nurses, who work with more patients than anyone else, are out in front and being the best they can be in caring for older adults helps us ensure we transform."
That's where Fletcher comes in.
Allen called Fletcher a "consummate nurse educator" who is a "true asset to the vision of transformational change in the health system for older adult care."
Fletcher came to Riverside Health System following 27 years at the University of Virginia (UVA) Health System, where her last role was as the Director of Senior Services.
Fletcher earned her undergraduate degree in nursing from Pennsylvania State University, her Master of Science in Nursing from the University of Lowell and earned her Doctor of Nursing Practice from the University of Virginia.
She helped establish the NICHE program (Nurses Improving Care for Health System Elders) at UVA in 1994 and opened an ACE (Acute Care of the Elderly Unit) there in 2004. NICHE and ACE Units are two evidence-based models for improving care of hospitalized older adults and was developed by the John A. Hartford Foundation.
Riverside's hospitals in Gloucester, Newport News, Tappahannock and the Eastern Shore of Virginia earned designations as NICHE centers earlier this year. The Doctors' Hospital of Williamsburg will work to earn its designation now that it's seeing patients.
Less than 20 hospitals across the state hold the same designation and Riverside is one of the first in the nation to commit to implementing this transformational program across all its services including skilled nursing facilities, ambulatory care, and long term care, of which Fletcher will play a key role.
Riverside is keenly focused on older adults in its continuum of care, which includes the patient centered medical home and primary care, acute care services, transitional care services (such as acute rehabilitation, skilled nursing rehabilitation, skilled home health care and hospice) and transitions within.
The idea is that a patient doesn't typically just enter a hospital. They may also have to visit specialists, rehabilitate in a short-term rehabilitation care setting or more.
Because of that focus, Riverside is innovatively implementing NICHE program across its continuum, blending it with established innovations in older adult care in the Lifelong Health Division.
Riverside is "ahead of NICHE in a lot of ways because they deal with hospitals but typically not a whole system," Fletcher said. "They permit nursing homes to sign up for NICHE, but they have to have a hospital affiliation."
Already, entire teams in four of the hospitals have taken the NICHE geriatric institutional assessment profile (GIAP), a survey to measure the knowledge base, perceptions and attitudes of team members who provide geriatric care. The plan is for the remaining staff throughout the system takes the GIAP in the year ahead.
"Many hospitals only have nurses complete it, but here we want to see where the entire staff's knowledge is because it's the entire staff that works with the older adult patient and family," Fletcher said.
Riverside also plans to open an ACE unit later this year. The Riverside ACE unit will be a 24-bed unit at Riverside Regional in Newport News, Va. that will care for patients over the age of 65 with multiple, interrelated diagnoses.
"The key in the ACE unit is that we use a strong, interdisciplinary approach," Fletcher said. "It's nursing, physicians, physical therapy, occupational therapy, pharmacist, social work, dietician, care managers, chaplain. It's a team that comes together."
And it's a culture change.
There will be a very patient centered culture to the unit with things like a dining room, for example, Fletcher said, "because studies repeatedly show that people eat better when they eat with others in a communal experience. Now, they don't have to if they prefer to eat in their rooms. But it will be an option."
There will also be a strong rehabilitation component on the unit where activities for daily living, like using a stove, washer and dryer, can be practiced before returning home.
Patients in an ACE unit have to be acutely ill. This is not a long-term care unit.
Fletcher continues to teach and publish extensively and exclusively in gerontological nursing.
She is a consumer advocate and educator serving on the Governor appointed Virginia Board of Long Term Care Administrators. She was recently appointed to the state Advisory Council for the Institute for Innovations in Caregiving. She is a plenary member and faculty for the Virginia Geriatric Education Center. She will be speaking at the Virginia Medical Directors Association conference this month on non-pharmacological management of agitation in patients with dementia.
"Working to recruit Kathy, I knew she had the knowledge and expertise to help us raise the bar with implementing NICHE throughout the integrated system and reinforce the value nursing brings to the care of older adults with the NICHE model," said Riverside's Senior Vice President and Chief Nursing Officer, Terris Kennedy, RN, PhD.
Why Riverside?
Fletcher said it was the mission statement of Riverside Health System – to care for others as we would care for those we love – and the vision statement of Lifelong Health – as I age I will control my destiny in a place of my choosing.
"I've already seen the commitment throughout the Riverside system, not just in the hospitals, to improve the quality of care provided to older adults," Fletcher said.
Riverside's Lifelong Health Division opened the first fully de-institutionalized nursing home in Virginia, offers home health technologies to older adults who wish to age in place and is running Virginia's most comprehensive Program of All-Inclusive Care for the Elderly.
"The mission statement," Fletcher said, "is so much more than a mission statement here at Riverside it is a lived experience that I see and feel every day."
ABOUT RIVERSIDE HEALTH SYSTEM:
A regional leader in providing healthcare since 1918, Riverside Health System seeks to deliver care and services - as a team- by putting patients and residents at the center of all operations.
Riverside delivers a variety of healthcare services and programs in the areas of prevention, acute care, aging-related services, rehabilitation, ambulatory care, diagnostic care, education, and home care.
The Riverside Health System operates five acute care hospitals, a psychiatric hospital, and the largest freestanding physical rehabilitation hospital in the Commonwealth of Virginia.
Its extensive Medical Group includes more than 500 providers. Ambulatory centers bring diagnostic services, physical therapy, day surgery and other services to neighborhoods served by Riverside.
The company employs more than 9,000 team members in offices throughout Eastern Virginia.
###
To interview Kathleen Fletcher, please contact:
Peter Glagola
Riverside Public Relations
(757) 719-2103
Peter.glagola(at)rivhs(dot)com