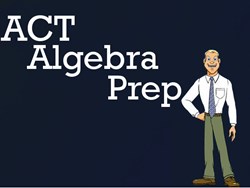 Oklahoma City, OK (PRWEB) October 08, 2013
"Tell me and I'll forget; show me and I may remember; involve me and I'll understand is an old Chinese proverb. Precision Technology Group, LLC, developer of ACT Algebra Prep.com has taken this to heart and developed an online ACT prep course that utilizes an animated instructor. Learning experts have identified three learning styles, audio, visual and tactile. Students utilize one or a combination of these learning styles. Using an animated instructor, ACT Algebra Prep.com addresses the audio and visual learning styles and with the addition of worksheets the tactile or hands on learning style is addressed.
"We know students have very busy social lives and sometimes they wait until the last minute to study for an exam. Getting them to squeeze-in studying for the upcoming ACT exam could be very hard to do. So if you can't beat them join them," said William A. Franks, Jr., President of Precision Technology Group. "Enter ACT Algebra Prep.com, our online course uses an animated instructor and focuses only on one subject, Algebra. Focusing on one subject will still give the student time for their day to day activities while studying for the ACT exam."
ACT Algebra Prep.com goes over ACT strategies, reviews Algebra concepts and walks the student through solved ACT type Algebra problems with the help of worksheets.
"You either know someone or have a relative that has been affected by breast cancer, in my case it was a close family member. Until it becomes up close and personal you're not forced to deal with it. As a way to fight breast cancer we will donate approximately 25% of every sale to Race for the Cure," said Mr. Franks.
If you think your son or daughter can benefit from ACT Algebra Prep.com it is being offered free through October 25th, simply go to ACT Algebra Prep.com, enroll and start prepping for the upcoming ACT exam.