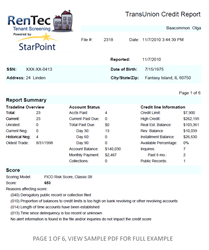 Rentec's goal is to not only provide the best product in our market but to also provide the best service
Grants Pass, OR (PRWEB) October 08, 2013
Rentec Direct Property Management Software is pleased to announce that for the very first time they will be offering extended hours to better serve clients on the eastern half of the United States. Member's of Rentec's team will be standing by starting at 6 AM until the close of business at 5 PM PST, Monday through FrIday, a change from 9 AM and 5 PM. Rentec product support and sales may be reached at (800) 881-5139 or by email at support@rentecdirect.com or sales@rentecdirect.com These new convenient hours take effect immediately, starting today, October 8, 2013.
When asked why Rentec was willing to open three hours before the average business day begins, Nathan Miller, President of Rentec Direct replied "It's simple, Rentec's goal is to not only provide the best product in our market but to also provide the best customer service".
To learn more about Rentec Direct or to obtain a 30-day full featured free trial of the software, visit
http://www.rentecdirect.com/
About Rentec Direct
Rentec Direct provides cloud based rental software solutions for property managers and landlords. Other popular solutions offered by Rentec Direct include tenant ACH payment processing,Tenant Screening, and online syndication of vacancies to more than 20 popular websites.