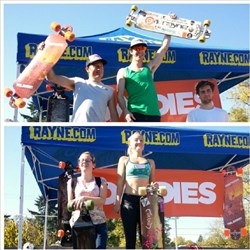 Banks, OR (PRWEB) October 07, 2013
On the same day as the Official Portland Marathon, Skateboarders had long distance on their minds. The International Distance Skateboard Association Sanctioned the 1st Annual Push In The Woods presented by Daddies Boardshop and Rayne Longboards. Top Ranked Skateboarder Paul Kent, visiting Portland, from Alberta, Calgary swept both races with ease recording a winning time of 29'18.06 in the 10K and 14'08.86 in the 5K Skate. Local Portlander Robin "The Leg" McGuirk skated his way to two second place finishes while New Jersey Native William Frank placed third in both events. Kelowna native Victoria Waddington swept both Women's Events.
The IDSA Pacific NorthWest Tour moves on to Arlington, WA just north of Seattle next Saturday and Sunday October 12 and 13 with three races where Paul Kent will try to become the 2013 IDSA Distance Skateboarder of The Year if he wins. For detailed Results on the tour and more information, please visit http://www.theidsa.org.