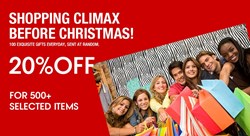 Oasap.com will share the benefits with its users and partners by OASAP Giveaways, and OASAP Free Trial.
New York (PRWEB) October 08, 2013
OASAP Limited, a global online provider of women's high-street fashion, announced today that it will host the third quarter 2013 meeting of the board on Tuesday; October 22, 2013 at 10:00 a.m. E. T. to discuss its financial results for the third quarter ended September 30, 2013. The meeting will be held at the Company's office at Suite 909, Two Grand Tower, Hongkong.
No proposal will be submitted for the board approval at the meeting. Instead, the meeting will discuss some company affairs with management.
The chairman of the board will make the Third Quarterly Report and submit the fourth-quarter financial budget for discussion at the meeting. The meeting will focus on new releases of the fourth quarter, as well as promotional issues during the Christmas season 2013.
Currently, OASAP Ltd. has prepared enough women sweaters and women coats for the coming winter; and a lot of promotional methods for the Christmas day 2013 will be launched at http://www.oasap.com one by one as soon as the meeting is finished.
From now on, in addition to reduce the prices, Oasap.com will share the benefits with its users and partners by OASAP Giveaways, OASAP Free Trial, OASAP Affiliate, OASAP Christmas Gift Card and etc.
About OASAP Ltd.
OASAP is: a high-street fashion online store.
OASAP likes to: deliver fashion & love!
OASAP is a global online store dedicated to high-street fashion by offering various kinds of women's apparel, bags, shoes, jewellery, accessories, beauty products, etc.
OASAP was founded in late 2011, and has already grown to the leader of high fashion online stores. It keeps updating products at a high rate with more than 300 new products each week. Those products mentioned definitely belong to the latest fashion trend.