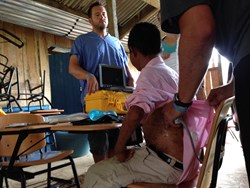 All of the villages we visited had been without medical care for at least three months, often longer.
Brownstown, Indiana (PRWEB) October 07, 2013
On September 21st, the Disque Foundation partnered with the Floating Doctors organization to bring medical relief to remote coastal communities of the world. Members of the Disque Foundation assisted in delivering medical assistance to local villages near Bocas del Toro, Panama. This was the Disque Foundation's second annual trip.
While on the trip, the group provided medical care to three local villages: Ensenada, Bahia Azul, and Via Escondido. During their visit, they saw over 250 patients and transported two local children to the Bocas del Toro Hospital for more specialized care. "One of the children had down syndrome, which caused him to have a heart defect," Dr. Karl Disque, Executive Director of the Disque Foundation, said. "The child needed to receive an echocardiogram to see how severe his heart defect was and perhaps undergo surgery if necessary."
A majority of the patients seen by the medical volunteers were treated for routine medical issues that would be quickly treated in the United States and other first world countries. Yet, due to lack of accessibility in Bocas del Toro, patients were forced to suffer through weeks of agony before getting necessary treatment. "All of the villages we visited had been without medical care for at least three months, often longer. Most of the conditions we saw were treated with simple medications that are readily available in the states," Dr. Disque said. "We were very impressed with the work Floating Doctors has already provided in the area, and are grateful we could help in any way possible. Poor health care scenarios like these are what the Disque Foundation is fighting to improve, and we will continue doing so in as many places as possible."
Team members of the Disque Foundation also enjoyed spending extra time with the children in each village they visited. Anna Disque, a Member of the Board of Directors of the Disque Foundation, played volleyball with multiple children in Ensenada. She also dedicated an hour each day, weeks before stepping foot in Panama, to brush up on her Spanish in order to act as a translator for the physicians and nurses. Wilson Rapp, a mobile technology expert with the Disque Foundation, also spent quality time with the children in Bahia Azul by showing them how to take photos and replay them on his iPhone. "We had a great time with the children, they loved playing games with all of us," Rapp said. "One of the kids taught me a game using two caps from a water bottle that he would throw against the wall. The object of the game was to get the second cap as close as possible to the first cap. It's truly humbling and just amazing how creative these children can be without access to television, video games, or computers."
For more information on the Disque Foundation please visit our website at http://www.disquefoundation.com.
About the Disque Foundation
The Disque Foundation is a nonprofit organization founded on a mission to advance the quality of health care and education to underserved regions, both domestic and abroad, and to inspire others to live inspired lives. Dr. Karl "Fritz" Disque, Executive Director for the Disque Foundation, has lead all training efforts for the foundation since its inception.
To further their efforts, the foundation has teamed up with National Health Care Provider Solutions (NHCPS), an online provider of Basic Life Support (BLS), Advanced Cardiac Life Support (ACLS), and Pediatric Advanced Life Support (PALS) certification programs. All proceeds from NHCPS go directly to support the efforts of the Disque Foundation through the Save a Life Initiative.
About Floating Doctors
"The Floating Doctors Mission is to reduce the present and future burden of disease in the developing world, and to promote improvements in health care delivery worldwide. We are providing free acute and preventative health care services and delivering donated medical supplies to isolated areas. We are studying and documenting local systems of health care delivery and identifying what progress have been made, what challenges remain, and what solutions exist to improve health care delivery worldwide. Lastly, using the latest communications technologies to bring specialist medical knowledge to the developing world, and to share our experiences with the global community and promote cooperation in resolving world health care issues." – taken from the Floating Doctors website (http://www.floatingdoctors.com).