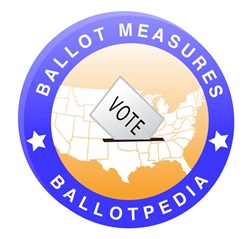 Madison, WI (PRWEB) October 08, 2013
The list of the year's 5 Most Notable Ballot Measures was compiled by Ballotpedia, which has provided comprehensive coverage of statewide ballot measures since 2008.
Leslie Graves, Ballotpedia's executive editor, noted a unique feature of the 2013 ballot: With only 31 statewide measures on the ballot in 6 states, 2013 features 28 percent fewer measures than the average number of measures on the ballot in an odd-numbered year. Historically, elections in odd-numbered years see approximately 45 measures.
What it says: Foods produced entirely or partly with genetic engineering must be labeled as such when offered for retail sale in the state.
Why it's significant: In November 2012, a long list of food companies spent over $45 million to defeat a similar bill, California's Proposition 37. The bill lost by a margin of less than 3%.
What it says: If passed, this amendment will increase state income tax by $950 million, with the proceeds going to the state's public education system.
Why it's significant: Supporters paid over $11 per signature to qualify Amendment 66 for the ballot, beating the record set in 2012 when supporters of California's Proposition 30 paid $10.86 per signature. The average cost per signature for a Colorado ballot measure in 2012 was $1.83.
New Jersey's Public Question 2
What it says: This initiative proposes an increase in the minimum wage by a dollar, from $7.25 to $8.25, with annual adjustments for inflation.
Why it's significant: This is the only ballot measure in 2013 to address the minimum wage. The last time there was a minimum wage ballot measure was in 2006 when six states passed minimum wage increases, all by wide margins.
What it says: $2 billion from the state's Rainy Day Fund will be removed and spent on water projects.
Why it's significant: Historically, a significant number of proposed constitutional amendments appear on the Texas ballot in off years; however, voter turnout is often in the single digits. Due to the fierce opposition to this bill from fiscally conservative groups, this year may be different.
Ohio's Cincinnati Pension Reform Charter Initiative
What it says: This initiative aims to change Cincinnati's underfunded pension system from a defined benefit to a defined contribution plan.
Why it's significant: Pension reform is the up-and-coming issue for many cities across the country. San Diego and San Jose, California voted on and approved city-wide measures to reform their faltering pension plans in June 2012 and initiatives similar to the Cincinnati plan are under discussion in other cities. Election-watchers looking for signs about the mood of the electorate on pensions should keep an eye on how Cincinnati's voters go on this one.
About Ballotpedia:
Established in 2007, Ballotpedia is an online almanac about state elections and election law. It includes information about the US Congress, State Legislatures, Ballot Measures (including Ballot Measure Law, School Bond and Tax Measures, Recall Elections, and Local Ballot Measures), School Board Elections, and State Executive Officials. Ballotpedia is published by the non-profit, non-partisan Lucy Burns Institute which is based in Madison, Wisconsin.
If you'd like more information, or to schedule an interview with one of Ballotpedia's researchers, please contact Amanda Grimmett at Amanda.Grimmett(at)lucyburns(dot)org.