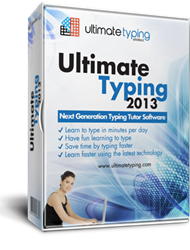 Good typing skills can help any career person to advance, as the benefits typing provides are numerous, long-term and substantial...
New York City, NY (PRWEB) October 09, 2013
Ultimate Typing™'s parent company eReflect announced today that typographical errors are often interpreted as unprofessionalism. According to ResumeEdge.com, 61% of recruiters will automatically reject a resume with typos while 43% of hiring managers will disqualify a resume because of a spelling error. Another story on the AOL Jobs site points out a recent college graduate who lost a chance at a good job because of a typo. While many typos are misspellings, most of them are usually due to poor typing skills, eReflect explained. Typos can pop up if the typist is hitting the wrong buttons, either due to wrong hand and finger placement or an insufficiently skilled typing approach. Typographical errors can be entirely avoided when a typist discards all wrong and counter-productive typing habits and adopts time-efficient skills that improve both typing speed and accuracy.
eReflect explained that typing and spelling are two intertwined language skills, and that issues in one area can affect the other. People might have exceptional spelling skills, but if their typing skills are inadequate their professional image can be harmed beyond repair, eReflect said today. Poor typing skills often don't let other language skills to be showcased. Instead, they're compromised because typos contaminate an otherwise impeccable text.
Individuals who are serious about their professional image should seek ways to improve their typing skills as a way of communicating a more professional and flawless image at work. Typing skills are essential, especially for people who engage in touch typing on a daily basis, eReflect commented. With efficient typing skills, a person can type faster and with greater accuracy, resulting in error-free typing.
Good typing skills can help any career person to advance, as the benefits typing provides are numerous, long-term and substantial, eReflect stressed. Being literate and having proper use of language cannot be adequately emphasized unless typing skills are equally advanced. With even minor improvement to typing skills, typos will decrease considerably, eReflect reassured readers. By learning to type efficiently, this not only will improve a professional image, but it will help highlight other skills and qualifications— often going unnoticed due to communication problems. A person's professionalism is filtered through their typing, and so it is crucial to make every effort to keep a good workplace image intact by learning typing, eReflect concluded.
For more details on Ultimate Typing™ please visit http://www.ultimatetyping.com/.
About Ultimate Typing™
Ultimate Typing™ software is designed specifically for the improvement of typing skills. Created by eReflect, a world leader in e-learning and self-development software, Ultimate Typing™ has been informed by the latest developments in the science of touch typing.
Since its creation in 2006 by Marc Slater, the company has already catered to over 112 countries all over the world, offering products with the latest cutting-edge technology, some of which are among the world's most recognized and awarded in the industry.