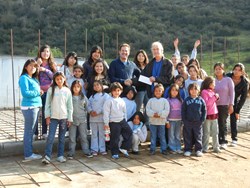 "I have three ideals that I follow," Dominguez points out, "the dignity of the individual, excellence and service. I ask all my colleagues to keep these in mind at all times."
Los Angeles, CA (PRWEB) October 08, 2013
Juan J. Dominguez is a prominent Los Angeles-based attorney, whose legal skills were recently recognized as Latino Attorney of the Year by the national Hispanic Bar Association. Dominguez has received a number of professional honors during his career, yet that is just one aspect of who he is. His success, however, has enabled him to indulge his compassion for those who need a hand up.
One of six children whose parents immigrated to the U.S., Dominguez watched his parents transition from humble beginnings to embrace the American dream. When they settled in Southeast Los Angeles, they had to learn a new language and start life over in a new country. Through pure determination and a solid work ethic, over time, Dominguez's late father built a successful chain of pharmacies in the Inland Empire.
Early life in a working class Los Angeles neighborhood introduced him to the struggles and challenges that other hard-working families faced. Building from the example and high standards set by his father, young Juan took up the community's challenges.
"I saw how families did everything 'right,' but sometimes were faced with obstacles that were difficult to overcome," Dominguez said. "A child ill with a devastating disease, a father hurt in an accident on the job, it could be almost anything. These families, often recent immigrants, didn't know where to turn. It's people like these that I have dedicated my life to helping."
Before enrolling in law school, Dominguez worked in the emergency rooms at UCLA Medical Center and St. Francis Hospital as a patient liaison. It was there that he first saw the plight of the seriously injured, often harmed through no fault of their own. This influenced not only his area of focus in the legal profession, but also the way in which he assists his clients.
"I have three ideals that I follow," Dominguez points out, "the dignity of the individual, excellence and service. I ask all my colleagues to keep these in mind at all times." Juan J. Dominguez, a Professional Law Corporation, in 25 years has grown to 75 employees.
Clients are often dealing with catastrophic injuries from accidents. "In addition to helping them navigate the legal system, my team also offers strong personal support, mentoring and reassurance to help reduce their tension and anxiety," Dominguez said. "We also offer a range of resources, including guiding them to appropriate medical care, social services and emotional support, especially those clients without health insurance."
Beyond the law firm, Dominguez donates money and time to more than 50 community and charitable organizations in the U.S. and abroad. Among the organizations he supports are: A Place Called Home, Children's Hospital of Los Angeles, Children International, Weingart Center for the Homeless, Hollenbeck Youth Center, Midnight Mission, and the Little Angels and Infant's Place orphanages in Tijuana, Mexico. He also sponsors sports teams for both children and senior citizens.
"Because of my background, I focus my charitable activities on organizations that help disadvantaged children and families, as well as the homeless," Dominguez said. "There are many organizations doing good work and I am grateful that I can help. Although writing a check is important, there is nothing like giving of yourself and working with these children and families in person. You can see the difference you are making in someone's life. There is no greater feeling."
Dominguez also established a scholarship fund bearing his name that awards college scholarships to students graduating from underprivileged, inner city schools in the Los Angeles area. In addition, he has sponsored scholarships to the Neighborhood Academic Initiative program at the University of Southern California. This rigorous, seven-year, pre-college enrichment program is designed to prepare low-income neighborhood students for admission to a college or university.
Juan Dominguez, through the example of his life and career, embodies the expression "Orgullo Hispano," or Proud to Be Hispanic. During Hispanic Heritage Month (Sept. 15 – Oct. 15), the community seeks role models that represent the contributions made by and the important presence of Hispanic and Latino Americans to the U.S. Dominguez is one such role model, who leads by example to show the positive influence one person can have on the community.
About Juan J. Dominguez
Juan J. Dominguez is a nationally recognized, award-winning, bilingual attorney based in Los Angeles. In 2013, Dominguez was named Latino Attorney of the Year by the Hispanic National Bar Association, which represents the interests of more than 100,000 U.S. Latinos in the legal field. Juan J. Dominguez, a Professional Law Corporation, his personal injury and consumer rights law practice is one of the most well known in Southern California. Since 1987, it has grown to more than 75 employees and has recovered in excess of $300 million in verdicts and settlements in personal injury, workers' compensation and consumer rights cases. Dominguez also supports and contributes to more than 50 charitable and community organizations in the U.S. and abroad. For more information, visit http://www.juanjdominguez.com.