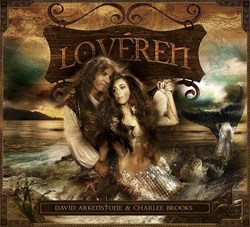 Traversing new age and world music rhythms with crossover pop vocals and magnificent orchestrations... the best David Arkenstone album ever! - John P. Olsen, New Age Music World
Laguna Beach, CA (PRWEB) October 08, 2013
Celebrating 25 years in the music industry, 3-time Grammy nominated composer, producer and multi-instrumentalist David Arkenstone today released the exquisite music video for 'Sessa Nulma' from his well-reviewed album, Lovéren, a collaboration with new artist Charlee Brooks.
Receiving rave reviews and delighting fans of this diverse composer, Arkenstone's lavish, orchestral, majestic "Lovéren" ranked #1 in April on the Zone Music Reporter Top 100 Radio Airplay chart and was named 'Best Album' in April by the Reviews New Age, thus earning an automatic nomination for their Best Album of the Year.
Enchanting songstress Charlee Brooks, who is being compared to Enya and Sarah Brightman, makes her album debut on Lovéren which she co-wrote and co-produced with Arkenstone. A mermaid love story, Brooks sings primarily in an aquatic language that she created for the recording called Mermish, a dialect she defines as universal because it is based upon emotion. The Nashville Soul Choir lends celestial voices to the tracks.
Just released, "Sessa Nulma" can be viewed at http://www.youtube.com/watch?v=8580EifOi6s&feature=em-share_video_user. Sung by Brooks, this hauntingly passionate ballad evokes an intense desire for forbidden love. The "Sessa Nulma" music video is produced by award-winning filmmaker Victoria Paige Meyerink, directed by Eric Ajoonian, and edited by Sean Blodgett.
A visionary recording artist, Arkenstone is known for his lush, richly-textured sonicscapes comprised of elegant neo-classical, authentic multicultural world music beats, rhythms, and ethereal new age ambience. In addition to over 20 albums that hit the Billboard chart, Arkenstone composes motion picture and television scores, and music for best-selling video game "World of Warcraft".
Distributed by MRI/Sony RED, Lovéren is available at Amazon, iTunes and wherever music is sold. Additional information is available at http://www.davidarkenstone.com and on the Lovéren Facebook page at https://www.facebook.com/pages/Lovéren/463272287068009?fref=ts.