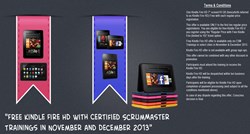 Free Kindle fire HD with CSM Training hurry up.....
United States of America (PRWEB) October 08, 2013
The Kindle Fire HD offer is valid on regular price registrations for CSM trainings during the months of November and December in these cities: Phoenix, AZ, Dallas, TX, Los Angeles, CA, Atlanta, GA, Richmond, VA, Bentonville, AR, Irvine, CA and Denver, CO. The offer is available only for the first ten registrations at regular price and cannot be combined with any other discount or offer.
The 2-day Certified ScrumMaster (CSM) trainings help participants to discover ways to improve the work environment in their organizations, and achieve the best potential of their personnel. The price of this training includes the fee for certification exam as well as two year membership at ScrumAlliance. CSM Trainings are conducted by Certified Scrum Trainers.
The terms and conditions on this offer are as follows.
1. One Kindle Fire HD 7" screen/16 GB (henceforth referred to as Kindle Fire HD) Free with each regular price registration.
2. This offer is available ONLY to the first ten regular price registrations. You are eligible for free Kindle Fire HD if you register using the "Regular Price with Free Kindle Fire (limited to 10)" ticket option.
3. Free Kindle Fire HD offer is available only on CSM Trainings in select cities in November & December 2013.
4. Kindle Fire HD offer is not available with group sign-ups.
5. This offer cannot be combined with any other discount or promotion.
6. Participants must attend the training to receive the Kindle Fire HD.
7. Kindle Fire HD will be dispatched within ten business days after the training.
8. Participants will be eligible for Kindle Fire HD upon completion of payment processing (and subject to all the conditions mentioned above).
9. In case of any dispute regarding this offer, Conscires decision is final.
For more details on this offer, visit: http://agile.conscires.com/special-holiday-promotion/
Conscires Agile Practices comprises of a team of Agile enthusiasts who believe in creating a positive change using the best practices of Scrum. With offices in Irvine, CA and Bangalore, India, Conscires guides organizations in the US, UK, India, UAE, Singapore, Germay and Canada to discover their strengths and identify areas of improvement. In addition to training 4600+ individuals in the past three years, Conscires has also guided software development teams from NASA, Cognizant to name a few. The services that are offered on Agile and Scrum include: Training, Assessment, Coaching, and Consulting. Workshops and free webinars are also conducted.
For more details on Conscires Agile Practices, visit: http://agile.conscires.com/